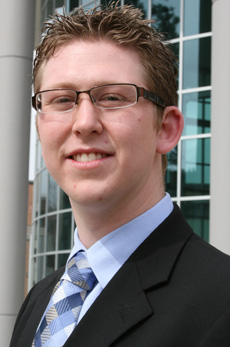 Thompson Rivers University will award approximately 1,600 degrees, diplomas and certificates to the graduates of over 100 degree, diploma and certificate programs at the Spring Convocation Ceremonies this week.
At each of the four convocation ceremonies in Kamloops on June 5 and 6, attendees will hear from honorary degree recipients, valedictorians and see the medal winner from each class lead their procession across the stage.
"We are committed to ensuring students are equipped with the resources needed to achieve academic success," said President and Vice-Chancellor Dr. Roger Barnsley, reflecting on the last graduating TRU students he will grant credentials to before retiring later this summer. "As a result, the graduates exiting their respective programs each had the opportunity to create a unique scholastic career that closes gaps put forth by proximity and circumstance."

Ryan Steele
Those qualities are exemplified in the recipient of the University Medal in Nursing, Tanya Watson Little, who returned to university as a mature student after raising a family and competing for several years in the caber toss at the Highland Games. She will cross the stage during Ceremony A.
Valedictorians like Ryan Steel for Ceremony B, who spent a year abroad at TUT in Tianjin, perfecting his Mandarin and earning a double degree, Bachelor of Computing Science and Bachelor of Business Administration, and completed four co-op work terms.
Or Kirby Booker, the University Medal Winner in Arts who learned of her achievement while taking part in a field school in Turkey just a couple of weeks ago. She will lead the procession for her class during Ceremony D.
And Jann Bailey, the Executive Director of the Kamloops Art Gallery, who is receiving a Honorary Doctorate for her work during Ceremony C, for raising the stature of a small gallery into one of the province's principal art galleries.
As a comprehensive university, TRU offers flexible learning formats, opportunities to earn credentials abroad and boost resumes with practical experience, making it possible for each student to customize an education that fits his or her individual needs.
Link to of backgrounder