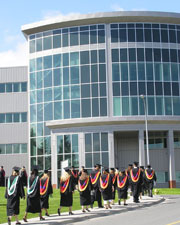 Thompson Rivers University is awarding an estimated 2007 diplomas, degrees and certificates from over 50 graduate and undergraduate degree options and more than 50 different career diploma and job entry certificate programs.
At each of the four convocation ceremonies in Kamloops on June 7 and 8, attendees will hear from honorary degree recipients, valedictorians and see the medal winner from each class lead their procession across the stage.
Beneath the mortarboard caps, the beaming faces of the graduates speak to their pride in their academic accomplishments. But there is more to the university experience than a credential.
"Think of their leaving university not only with a degree diploma or certificate but with a rich group of networks, experiences, successes and confidence built through doing," said Roger Barnsley, President and Vice-Chancellor. Undergraduate research opportunities, hands-on-involvement in quality construction projects, student leadership, co-op and Study Abroad are some of the ways students add value to their credentials.
"Think of these graduates holistically and inclusive of what they have achieved, with skills, education and experiences that prepare them for life," Dr. Barnsley said, reflecting on the graduating students.