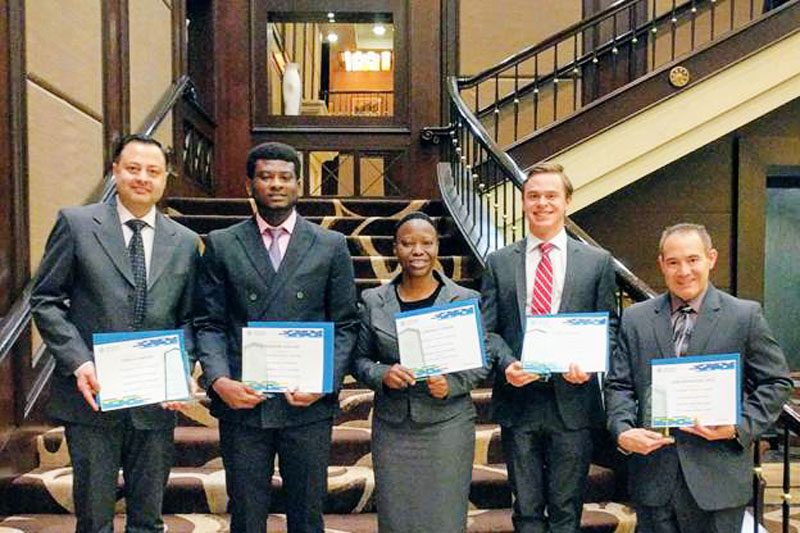 Five Master of Business Administration students from TRU are representing BC in the final round of a national competition that offers bragging rights and some serious ethical debate.
Team members have the right balance of skill, preparation and commitment to thank for getting them there.
Jose Carlos Rodriguez Jule, Tyler Carson, Adejobi Adewori, Florence Oneneh Lyogun and Kishlay Nikesh will face teams from four other business programs on Thursday, May 3, in Vancouver, for the title of CFA National Ethics Challenge champion for 2018.
"They've been doing additional readings on investment ethics and practising their case analysis skills with different investment ethics cases they can find," said the team's faculty adviser Dan Thompson. "As they say, 'If they don't win, it will not be for a lack of trying.' "
The five earned the right to compete by winning the BC regional championship earlier this year. By taking that title, they edged out UBC and SFU to represent the province.
At the national championship in Vancouver, all teams will be given the same ethical dilemma and three hours to come up with a response, which consists of a 10-minute presentation to a panel of judges. The judges  then have 10 minutes to ask questions.
Also competing in this, the second annual ethics challenge, are Mount Royal University, University of Ottawa, l'Université de Sherbrooke and Saint Mary's University.
"I am proud of them," said Thompson. "Despite very busy MBA class schedules, part-time jobs, and family lives, they made sure they were well prepared. Their thorough preparation and excellent public speaking skills have been the keys to their success."