Posted on: September 20, 2017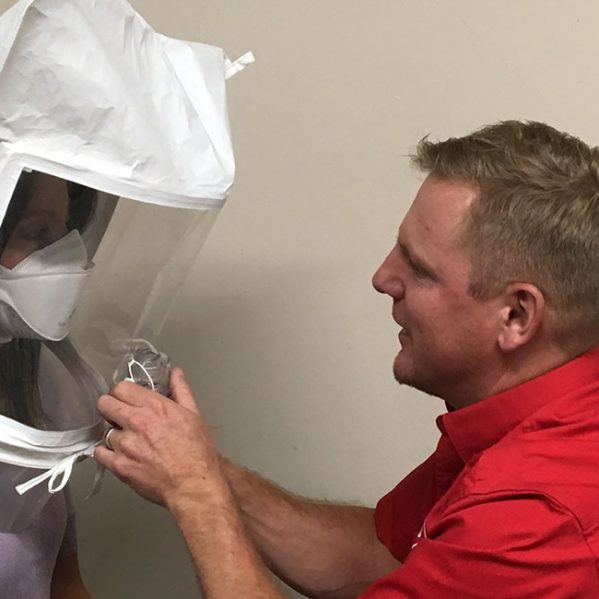 Nutech Fire Protection and Safety Services isn't a name we would normally associate with the School of Nursing (SoN), but thanks to CEO Bob Dieno, a brand new bursary has been established that will provide $,1500 each year to a student in need.
Nutech Safety is a certified mask fit-testing authority for the Kamloops and Kelowna regions and Dieno, who is a certified mask fit-tester, has been involved with the SoN for a few years, performing fit tests to nursing students as needed.
To protect patients, the Interior Health Authority adopted a policy requiring all employees, students, physicians, residents, contractors, vendors and volunteers to get immunized or to wear a mask during influenza season when in a patient-care area. Since students are now required to wear a mask during practicum, they are also required to get fit-tested by a fit-testing authority, so the SoN started referring their students to Dieno.
"I used to do fit-testing on students casually, maybe five or six a year. Now I see about 40-50 students a year. I also come to campus to fit another dozen students from out of town," said Dieno.
"Since TRU is supporting me and my business, I wanted to give back. I decided that I would donate all the money from fit-testing students back to the nursing program and create an annual award to help a student in need," he said. "Lots of the students who walk through my doors are single parents who are trying to change their lives, so I would love for this award to help a single parent."
Since the 2015/16 season, all BC health care workers employed by a health authority and medical staff have been required to report what they do to prevent flu, whether they have chosen to be vaccinated or wear a mask in patient care areas.
"As we all know, going to school is very costly from tuition to texts, and all the other daily expenses incurred," said Debbie Thompson, program assistant in the School of Nursing. "Students in need appreciate any help toward their education. This is very kind and generous of Bob."