Posted on: May 4, 2017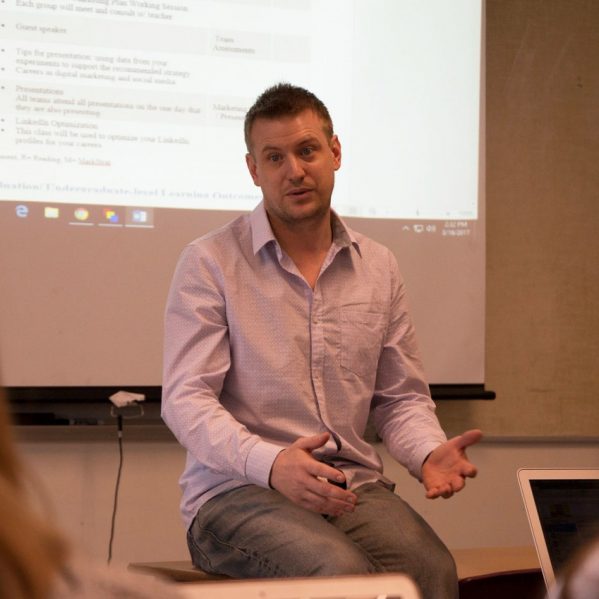 Social media marketing students are having a lot of fun with Julio Viskovich's new course.
Viskovich is a recent addition to the Marketing, International Business and Entrepreneurship department and says that he has already seen the school's commitment to providing one of the leading marketing programs in the province.
"It's nice to be close to family, but Kamloops also offers a lot of potential and opportunity," said Viskovich. "There's a strong startup presence beginning to form here and I hope to offer my expertise."
During his latest social media marketing course, students under the leadership of Viskovich published an Amazon Book—"The Best and Worst Social Media Campaigns of 2016-2017"—and completed their Hootsuite Academy certification.
Being certified and published social media professionals, many landed exciting internships and summer jobs working in social media specifically.
Sophia de Zeeuw is a third year student from Kamloops who's majoring in marketing.
Zukky Ohameje is in his final year, also majoring in marketing and hails from Nigeria.
Suraj Shah recently completed his Post Baccalaureate Diploma in Marketing and comes from Mumbai, India.
The traditional school year is now complete for most, exams are over and the full-time-working season is gearing up. For anyone looking to polish their online presence and better manage their social accounts while searching for their next career move or dream job, Viskovich and his students have a few tips and insights. If you have landed a job that requires social media expertise, there are some gems in here for you too.
How do I choose which social media platforms to invest my time in?
Viskovich: You always let the customers choose which platforms you should be on. In other words, fish where the fish are. Everyone is on Facebook so that's going to be a core platform for anyone. Look at the customer demographics and then work backwards to see which platform they use and that will give you an idea. For example, if one of your main customers is a woman between the ages of 20 to 30, Instagram is going to be a core platform for you.
de Zeeuw: When using social media for business I choose Facebook to invest most of my time in because it's currently the platform with the most demographic data and has the ability to target your key audience the best.
Ohameje: It depends on what I want to accomplish and also what content I'm working with. Short blogs and links to blogs/vlogs are usually done through twitter. It's also useful for engaging with influencers. Others like Facebook and YouTube more for video content. If I want the audience to act quickly, I use Snapchat or Instagram videos.
What's your advice for people on LinkedIn?
Shah: Give your profile a make over. Most profiles I have seen need makeovers—you must stand out. Change the way you present yourself and market yourself first.
de Zeeuw: Write a kick-butt summary with an engaging opening line and make sure to write a custom headline. So instead of using the default headline which is your current occupation plus your employer, write your own explaining what you actually do. We were taught that a good method of writing a headline is to begin with an action word like "innovating" or "revolutionizing" or "creating" and then add the main thing that you do.

Ohameje: Make sure your profile reflects whatever stage of life you're in. LinkedIn profiles should be updated on a regular basis.
Viskovich: LinkedIn is the one social network that is built specifically for business networking and finding potential job opportunities. It's about two things: building out your profile to show off your expertise and connecting with the right people that can help your career grow. Make sure you build out your profile completely, and then develop a strategy for connecting with influencers as well as with recruiters for companies you might want to work at.
Should a person have two profiles—one personal and one professional—or just one?
Viskovich: That's a really good question and one lot's of people ask. I feel you shouldn't need to separate things and you should just be yourself as long as it's socially acceptable. People you do business with also want to know you as a person. However, I also understand that not everything is appropriate for everyone and if you have family/friends vacation photos, or perhaps photos where drinks etc are involved, use privacy settings to keep it within your group. Facebook has done great things to allow you to provide levels of access to your life to different groups of people.
de Zeeuw: In regards to the industry I work in,  I keep business and personal social media separate. I think it's unprofessional to blend the two if you are acting as a business online. People click like on a business account because they're interested in the company or it's brand personality…not necessarily pictures of lunch and your best friend's new puppy. Though that doesn't mean your company account has to be all business. Just make sure that it relates to the business and is on brand. It depends on brand and purpose.

Shah: I have business accounts for the businesses I work for. But for myself, I only have personal accounts.
Who do you follow on social media for inspiration? Any thought leaders we should know about?
Ohameje: The usual suspects: Tamara McCleary, Gary Vaynerchuk, Neil patel, Travis Wright, Ian Anderson Gray and Madlyn Sklar.

de Zeeuw: I love brands with a sense of humor, and right now I'm really loving Denny's Twitter account. Their posts are hilarious and I think they're doing a great job of appealing to millennials. They're one of the only brands I've ever seen use memes correctly.

Biggest takeaway from your social media course with Viskovich?
de Zeeuw: The concept of "unicorn posts."
"Basically, unicorn posts are your posts that get the most organic engagement. First identify these unicorn posts and then pay to boost them."

Ohameje: It gave me a sort of structured approach to take in terms of developing a social media marketing strategy (SMM). His class helped me put together a lot of what I was already aware of, in a more polished way.
Shah: The class examples, discussions and project work was all very practical. The topic of SMM made the course a little different from all the other courses I have taken at TRU.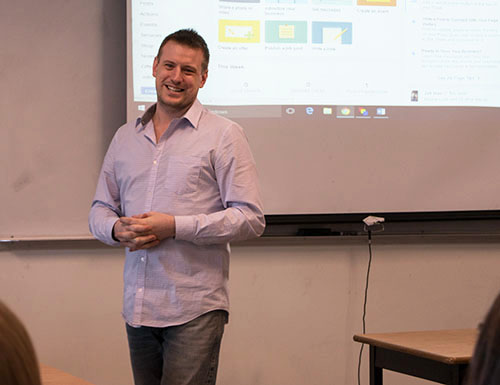 What do you think is the most important tool or skill a social media marketer can have in their arsenal right now?
Viskovich: The weird thing is that one of the most important elements of social media is simply being able to have a conversation. People do too much broadcasting of their message instead of engaging and showing their customers they care. On a different note, the most important hard skill is the ability to develop good content and to target that content at their audience.
Where do you see the future of social media marketing? As in, do you see the job prospects only getting better for your students looking for work after university?
Viskovich: Social media has a great future. Everybody uses it so businesses will need to be on it. Traditional forms of marketing can't target users with personalized messaging like social media can. Aside from that, mobile smart phone ownership has almost proliferated our entire society—and the best way to market to mobile phones is through social media.
The need for social media is continuing to grow. As more startups in Kamloops continue to incubate, there will be a bigger local need as well. Even the small businesses around town will need to adopt social media if they intend on selling to Millennials. Another great thing about social media is that you can work remotely if you can find the right company to work for.