Posted on: April 13, 2017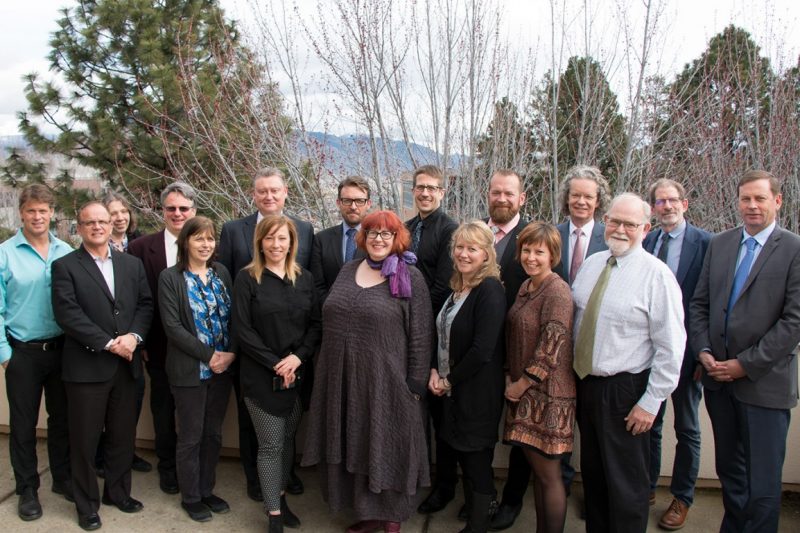 TRU celebrated this year's eight outstanding award recipients and recognized 173 faculty and staff for long-term service at the President's Annual Merit and Staff Awards on April 13, 2017. About 200 colleagues and supporters packed the Mountain Room for the 2 p.m. ceremony, while the eight award recipients enjoyed a reception with TRU President Alan Shaver and other administrators (pictured above).
Merit Award recipients are as follows:
TRU Master Scholar Award
TRU annually recognizes a faculty member who represents the highest achievement in scholarship, attained over a career. Nominees must be TRU tenured professors or professors emeriti who have held an academic appointment at TRU for at least 10 years and have not previously received the award.

Dr. George Johnson, Faculty of Arts
George is a professor and the chair of English and Modern Languages. He has taught English and writing at TRU since 1991. Internationally recognized both as a scholar and a creative writer, he has authored Dynamic Psychology in Modernist British Fiction (2006) and Mourning and Mysticism in First World War Literature and Beyond: Grappling with Ghosts (2015), both of which made substantial contributions to our understanding of early modernism. He edited and introduced three volumes of the Dictionary of Literary Biography, has published numerous scholarly articles and has presented at national and international conferences. His creative works include several acclaimed screenplays and stage plays such as Peace Pledge, which received honourable mention in the Euroscript screenplay competition, and Mockus, which premiered Feb. 8, 2017, at the Pavilion Theatre, Kamloops.
TRU Teaching Excellence Award
TRU annually recognizes up to three faculty members who represent the best qualities of teachers, in and out of the classroom. Nominees may be full-time, part-time or sessional faculty and must have taught at TRU for five continuous years.

Dr. Jonathan Van Hamme, Faculty of Science
Jon is an associate professor in Biological Sciences who has shared his passion for microbiology at TRU since 2003. With unwavering enthusiasm and an open-door policy, he makes difficult course material engaging and provides extra help whenever needed, supporting many students to excel in biology and beyond. Jon effectively integrates his research into his teaching, applying concepts to current, real-world applications, and he inspires students to expand their skills in their own research. The recipient of a 2016 Undergraduate Research Mentor Award, he has supervised 46 undergraduate students in the past 10 years. He has introduced more than 60 students to the equipment in the state-of-the-art microbiology, proteomics and genomics facility he has developed at TRU.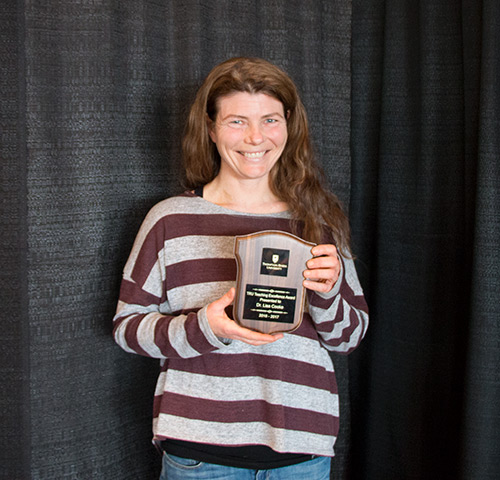 Dr. Lisa Cooke, Faculty of Arts
Lisa is an associate professor in Sociology and Anthropology who has taught cultural anthropology at TRU since 2009. Students have shown a growing interest in the courses that she has developed about Indigenous studies and colonial settler relations and appreciate the tools and experiences she incorporates to make the content more relatable. She brings her extensive research knowledge to the classroom, shares personal stories as well as media analyses to address contemporary issues, and challenges students to learn in new ways through hands-on experience. Through her teaching, she motivates students to continue their learning and apply it to their own lives. Caring, generous and responsive to diversity, she creates a safe, non-judgmental atmosphere in which her students reach a deeper understanding.
TRU Faculty Award for Excellence in Internationalization
TRU annually recognizes one faculty member who through teaching, scholarly activity and service promotes the internationalization of the student experience in or out of the classroom. Nominees are full-time, part-time or sessional faculty who have taught at TRU for five continuous years and have not previously received the award.
Robin Reid, Faculty of Adventure, Culinary Arts and Tourism
Robin is an assistant professor in Tourism Management and has taught at TRU since 1998. Her involvement in TRU's Pedagogy of Place research group and the Internationalizing the Curriculum program provides a background for re-visioning her teaching and curriculum to engage both international and domestic students in intercultural dialogue and place-based experiences. Her applied research showing how specific interventions can improve students' experiences of multicultural group work has been shared widely in international and national publications and presentations. Through immense enthusiasm, commitment and creativity Robin stimulates intercultural learning and sparks an appreciation of diverse perspectives in her students that stays with them long after graduation.
TRU Distinguished Service Award
TRU annually recognizes up to five individuals who demonstrate outstanding abilities and contributions, drawn from all employee groups: two support staff, one faculty member, one Open Learning Faculty Member and one administration member. Nominees may be full-time or part-time employees and must have worked at TRU for five continuous years.

Jim Gudjonson (Administration), Environmental Sustainability
Jim is director of Environmental Sustainability and has been at TRU since 2000. His leadership spans many areas of sustainability, from operations to community engagement. He led the development and continues the implementation of TRU's first Strategic Sustainability Plan, with initiatives that have been recognized nationally and internationally. Through his efforts, TRU achieved gold status in the Sustainability Tracking Assessment and Rating Systems (STARS) in 2015, and is on track to achieve Platinum status in the near future. Last year TRU's electricity savings reached $500,000, the greatest savings as a percentage of total consumption of all the universities in BC Hydro's Energy Manager program. Jim's passion and commitment have contributed to a strong sustainability culture among students, faculty and staff.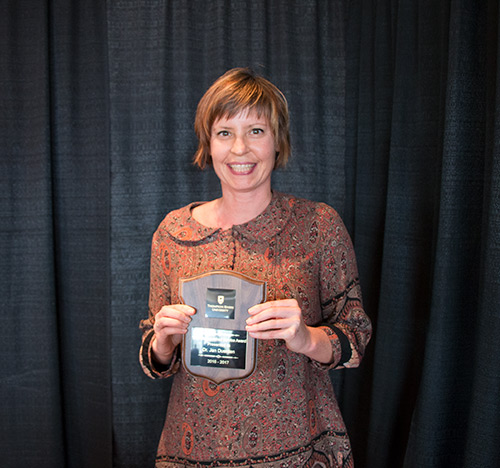 Dr. Jan Duerden (Faculty), Faculty of Arts
Jan is an English faculty member and has been at TRU since 1998. Her record of service in the Faculty of Arts, through her participation in promotion, marketing and recruitment events, documents her exceptional commitment to increasing the profile of TRU and supporting student success. Jan has been instrumental in establishing two of Arts' most successful promotional events: the Day of Arts and Science—which celebrates its tenth year in May—and First-year Orientation. Through her involvement in introductory programs like TRU Start, she is often part of students' first experience with TRU. An effective and dependable leader, she has made her mark on and off campus, benefiting hundreds of students every year.

Rose Gountas (Support Staff), Facilities Services
Rose is the utilities coordinator for the TRU campus and has been with Facilities Services since 2001. In arguably one of the busiest and most demanding positions on campus, she demonstrates outstanding perseverance, organization and leadership. Rose has proven her ability to effectively handle an extensive range of operational tasks, from logistics for many campus-wide events (including IDays, convocations and orientation), to major staff relocations, to snow and refuse removal. In the summer of 2016 alone she coordinated the moves involved for more than 20 renovation projects in eight buildings. She provides friendly and professional customer service, no matter the emergency, and works closely with her Facilities colleagues to ensure the campus is safe and well-maintained for the TRU community, inside and out.

Karie Russell (Support Staff), TRU World
Karie is the mobility officer at TRU World and has worked with Study Abroad and international students at TRU since 2004. Her tireless efforts have made TRU's Study Abroad program a model of excellence. With passion and dedicated mentorship, Karie led the development, launch and management of the Study Abroad Ambassadors program, which has gained national and international praise. Recognizing the opportunity to increase the safety of TRU students abroad, she championed and implemented the new Symplicity Horizons software to manage, monitor and support student travellers. Her research on best practices and collaboration with Advising has streamlined course planning for inbound exchange students to give them peace of mind. To every initiative she brings enthusiasm, energy and professionalism.
President's Annual Service Awards for Long-Term Service
TRU recognizes employees with 10 through 35 years of long-term service with a series of service award pins.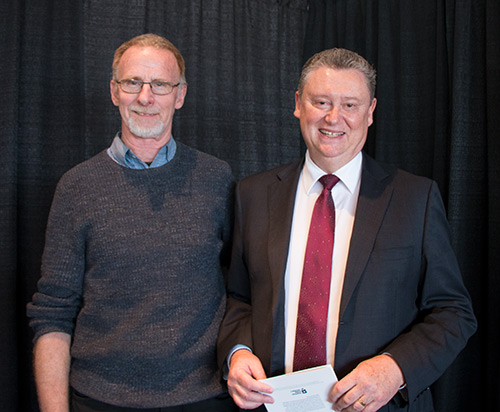 35 Years of Service (since 1982)
Will Garrett-Petts, Research and Graduate Studies
Allan Hneeda, Faculty of Education and Social Work
Robert Lindsay, Open Learning
Scott Mann, Faculty of Science
Laurain Mills, Open Learning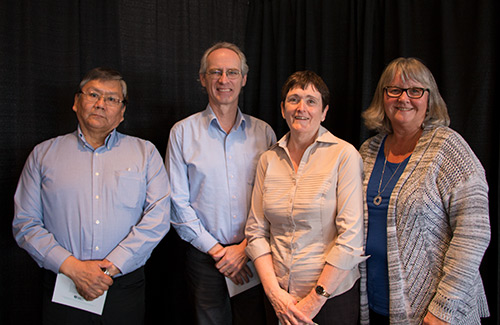 30 Years of Service (since 1987)
Linda Brunt, Ancillary Services
Heather Noyes, Faculty of Science
Larry Peatt, TRU World
Randolph (Randy) Porter, Finance Department
Robert Verner, Open Learning
Troy Welch, Open Learning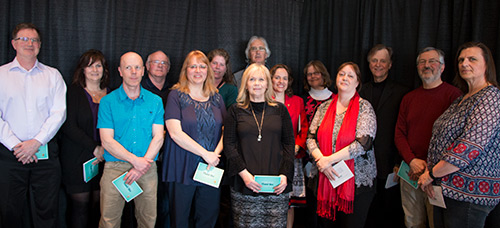 25 Years of Service (since 1992)
Bruce Baugh, Faculty of Arts
Devon Boucher, Faculty of Education and Social Work
John Bryson, Lillooet Regional Center
Kenneth Cloutier, Faculty of Adventure, Culinary Arts and Tourism
Ila Crawford, Faculty of Arts
Margarete Hanna, Faculty of Education and Social Work
Adrian Higgins, Facilities Services
Jacqueline Kampman, Faculty of Arts
John Karakatsoulis, Faculty of Science
Bernie Kirkey, School of Business and Economics
Lolina Koopmans, Faculty of Education and Social Work
Dawn Lamore, Strategic Enrolment and University Registrar
Penny MacCourt, Open Learning
Susan McKay, Faculty of Education and Social Work
Charlene Munro, Strategic Enrolment and University Registrar
Cindy Piwowar, Faculty of Education and Social Work
Lois Rugg, Open Learning
Mark Salopek, Open Learning
David Sheets, Faculty of Science
Michael Shields, Williams Lake
Donald Sinclair, Open Learning
Iain Stewart-Patterson, Faculty of Adventure, Culinary Arts and Tourism
Arlee Strachan, President and Vice-Chancellor
Donna Taylor, Faculty of Student Development
Patrick Walton, Faculty of Education and Social Work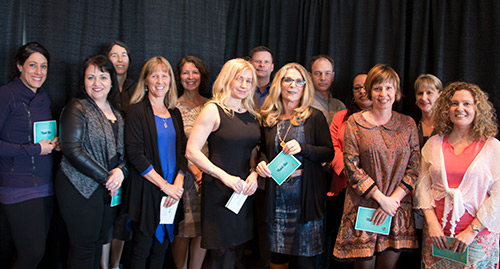 20 Years of Service (since 1997)
Hank Bangma, School of Trades and Technology
Denise Comtois, Strategic Enrolment and University Registrar
Dorys Crespin-Mueller, Integrated Planning and Effectiveness
Julie-Anne Dekowny, School of Trades and Technology
Jan Duerden, Faculty of Arts
Louis Gosselin, Faculty of Science
Linda Huntington, Strategic Enrolment and University Registrar
Lawrence Iles, Faculty of Student Development
Cindy James, Faculty of Student Development
Nina Johnson, Faculty of Arts
Rhonda Johnson, Williams Lake
Victoria Martin, School of Business and Economics
Vera Mazzei, Strategic Enrolment and University Registrar
Sharon Munk, Faculty of Student Development
Lanette Nordick, School of Nursing
Linda Oliver, School of Nursing
Evangelitsa Pappas, Faculty of Education and Social Work
Nicholas Pawliuk, Faculty of Arts
Marie-Christine Rey-Bilbey, Faculty of Arts
Pina Russo, Athletics and Recreation
Jonathon Shephard, Athletics and Recreation
Lisa Smillie, Strategic Enrolment and University Registrar
Robin Tapley, Faculty of Arts
Joanna Urban, Faculty of Science
Gilles Viaud, Faculty of Arts
Sheri Watson, Faculty of Science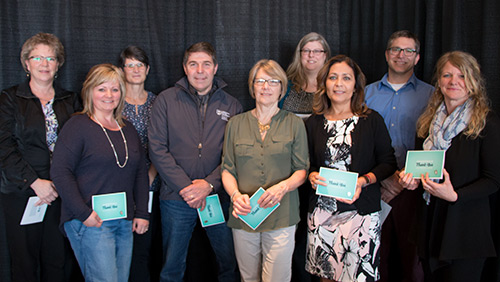 15 Years of Service (since 2002)
Anne Beveridge, Open Learning
Jason Brown, Faculty of Education and Social Work
Stephanie Chaput, Faculty of Science
Naowarat (Ann) Cheeptham, Faculty of Science
Bruno Cinel, Faculty of Science
Rachelle Cornwell, Open Learning
Reyna Denison, TRU World
Anton du Toit, Open Learning
Florriann Fehr, School of Nursing
Heather Forrester, Auxiliary
Karen Gamracy, Advancement
Thomas Haag, School of Trades and Technology
Jonathan Heshka, Faculty of Law
Hung-Chi Hsu, TRU World
Valerie Jacobs, Faculty of Student Development
Warveni Jap, School of Business and Economics
Jenine Johnson, Finance Department
Douglas Knowles, Faculty of Education and Social Work
Darlene Koss, Auxiliary
Ehsan Latif, School of Business and Economics
Michael Lemphers, Faculty of Science
Peggy McKimmon, School of Business and Economics
Elizabeth Rennie, University Library
Cliff Robinson, Faculty of Student Development
Aditya Sharma, Open Learning
Brenda Smith, University Library
Adriana Stefan, Faculty of Science
Mohamed Tawhid, Faculty of Science
Sonia Walczak, Faculty of Science
Ed Walker, Faculty of Adventure, Culinary Arts and Tourism
Marnie Wright, Open Learning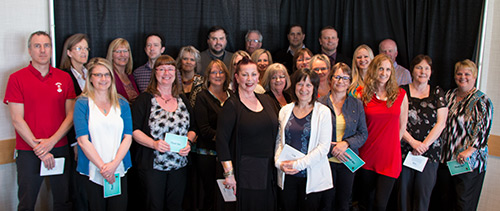 10 Years of Service (since 2007)
Charles Anaere, School of Business and Economics
Christine Anderson, Marketing and Communications
Sheryl Aselstyne, Open Learning
Bradley Bates, Faculty of Education and Social Work
Jolanta Belliveau, Finance Department
Tina Block, Faculty of Arts
Joan Bolton, Williams Lake
Nicole Borhaven, Open Learning
Gary Bunney, Provost and Vice-President Academic
Tracy Christianson, School of Nursing
Naomi Cloutier, Open Learning
Lisa Cooke, Faculty of Arts
Jennifer Crall, Open Learning
Colleen Crossley, Williams Lake
Jean Crowe, Open Learning
Tod Denham, Open Learning
Marcia Desrosiers, Faculty of Science
Sandra Devick, Faculty of Student Development
Karen Devlin, Faculty of Science
Donna Easton, Faculty of Student Development
Toni Faulkner, Strategic Enrolment and University Registrar
Lyn Ferec, Strategic Enrolment and University Registrar
Andrew Fergus, School of Business and Economics
Jonathon Fulton, Open Learning
Linda Giddens, Faculty of Student Development
Kathy Gilroy, Williams Lake
Jarita Heer, Faculty of Adventure, Culinary Arts and Tourism
Thomas Hewett, Williams Lake
Jason Hogue, Open Learning
Scott Jameson, Open Learning
Sydney Johnsen, Faculty of Adventure, Culinary Arts and Tourism
Janice Karpluk, Faculty of Science
Roxane Kolle, Auxiliary
Gurjit Lalli, Information Technology Services
Sarah Langlois, Open Learning
Christine Lee, TRU World
Xuelin Liu, Faculty of Education and Social Work
Roy Lochhead, School of Trades & Technology
Barbara Loucks, Open Learning
Terence Macdonald, Faculty of Arts
Anne Magdalenich, Strategic Enrolment and University Registrar
Diana Major, Advancement
Razuvtindar Mann, Strategic Enrolment and University Registrar
Shannon Martin, Auxiliary
Barbara Mayer, University Library
Alicia Mazari-Andersen, Open Learning
Erin McGarvey, School of Nursing
Sean McGuinness, Faculty of Science
Doug Medley, Open Learning
Arthur Meger, Open Learning
Joanne Moores, Strategic Enrolment and University Registrar
Cindy Nadeau, Williams Lake
Kimberley Naqvi, Faculty of Arts
Vicki Nygaard, Faculty of Arts
Mark Paetkau, Faculty of Science
Hilary Parsons, Strategic Enrolment and University Registrar
John Patton, Open Learning
Corinne Petersen, Finance Department
Donald Poirier, Open Learning
Sharan Rai, Auxiliary – Williams Lake
Glenn Read, Ancillary Services
Larry Read, Athletics and Recreation
Susan Reedy, Ancillary Services
Robert Rippin, Open Learning
David Rittenhouse, Open Learning
Lora Sartori, Faculty of Student Development
Ann Scott, Open Learning
Christopher Seguin, Advancement
Michelle Seibel, School of Nursing
Heather Shannon, Faculty of Science
Debra Sloat, School of Business and Economics
Charmaine Tener, School of Business and Economics
David Verhoeff, University Library
Debbie Wasylyshyn, Open Learning
Julia Wells, University Library
Caroline Whitelaw, Research and Graduate Studies
Christine Wihak, Open Learning
Corey Wisla, Information Technology Services
Shelley Woodrow, Ancillary Services
Cameron Reid (posthumous) Open Learning