Posted on: April 1, 2017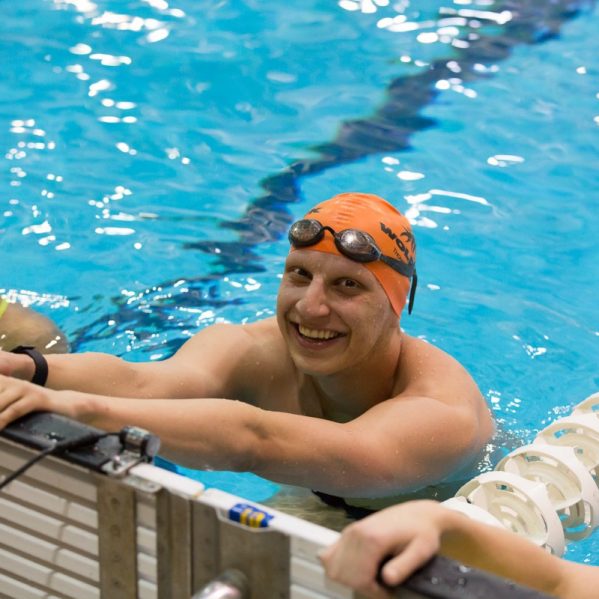 In swimming, a millisecond can make or break you. Just ask captain of the WolfPack swim team Jagdeesh Uppal, who truly makes every second of his day meaningful.
Uppal, who recently wrapped up his final season with the 'Pack, received the USport Male Swimmer Community Service Award at the national swimming championships for his outstanding community impact. He also received the TRU Board of Governors Recognition of Excellence Award and the Dr. Roger H. Barnsley Scholar Athlete Award while landing himself on the Dean's List six times.
Despite 6 a.m. swim practices and leading the team to nationals, he somehow still finds time to do ground-breaking medical research and volunteer at Royal Inland Hospital.
"You need to eat, sleep, breathe and plan every hour of your day to make sure that nothing goes to waste," says Uppal.
The chemical biology major spent three months conducting research at the Indian Institute of Technology (IIT) in Roorkee, India last summer, funded by a Mitacs Globalink Research Award. He developed a compound to detect and track the progression of Alzheimer's disease.
"Experiences are invaluable, especially in university when you have the opportunity to go abroad, go to different universities and learn every day from PhD and master's students," says Uppal, noting that even learning how research is conducted in one country vs. another is a learning experience in itself.
He has also been a valued asset to science faculty member Dr. Kingsley Donkor's research team.
"Jagdeesh has proven to be an outstanding researcher, who shows great initiative and dedication to his work," says Donkor. "It's been a pleasure mentoring such an excellent student."
Uppal will walk the stage at Convocation this spring with a Bachelor of Science before starting his next chapter at the University of Alberta to complete a two-year masters program by research on developing a method for detecting DNA damage using capillary electrophoresis.
"TRU has been the best four years of my life and I'm going to miss it," says Uppal. "University is the best time to go out of your comfort zone and try new things. My friends keep me motivated and the professors are a help too."