Posted on: March 13, 2017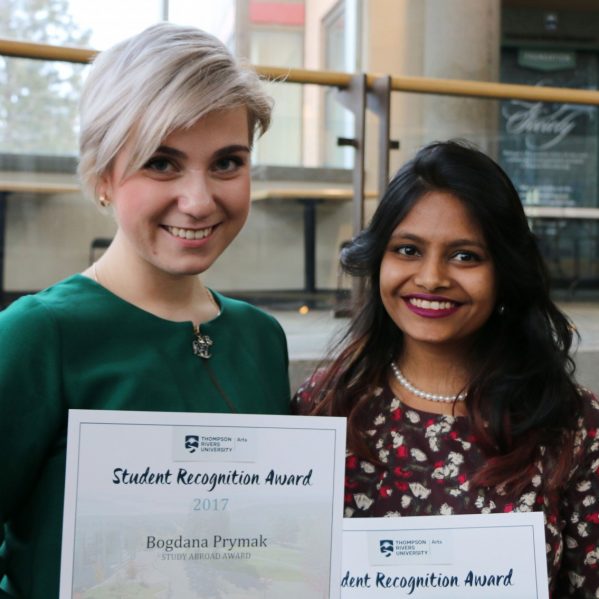 Faculty, administrators and proud family members recently gathered to celebrate 33 arts students.
All departments were represented as students from a variety of disciplines were awarded for excellence in research, engagement, as ambassadors and for studying abroad.
A total of $21,700 was given out in monetary awards.

Award categories

The Arts Engagement Ambassador Award is given to a graduating student, nominated by the Faculty of Arts, for their extraordinary contribution, commitment of time and energy in their capacity as recruitment ambassador.
The Co-op Education Award is given to a student who has completed a co-op work term, chosen by the Career Education department.
The Meritorious Ambassador Award is given to students who have clearly demonstrated a commitment to TRU by their extensive involvement with their department, division, and at the university levels; all students in this category have a minimum 3.5 GPA as well as a strong record of co-curricular activities.
The Arts Research and Scholarship Award is given to students who've established a proven record of high achievement in the area of research and/or creative work and activity over the course of their studies.
The Student Ambassador Award is given to students who participate in recruitment, marketing, and engagement activities at both the divisional and departmental levels; including assisting with open houses, recruitment fairs, marketing profiles and as engagement ambassadors.
The Arts Study Abroad Award is given to students who have lived and studied in a different country for one or two semesters.
Below the award winners who attended the ceremony are pictured, with a full list of winners at bottom.
Click on any of the photos to start a gallery show.
Award winners
Engagement Ambassador: Jillian Hearn, graduating with her BA in June
Co-op Education Award: Dale Drozda, BA
Meritorious Ambassador Awards:
Elizabeth Funk, English & Modern Languages
Martin McFarlane, Journalism, Communication & New Media
Emily Dundas Oke, Philosophy, History & Politics
Alex Wilson, Psychology
Peter Navratil, Visual & Performing Arts
Research and Scholarship Awards:
Rebekah Seagle, English & Modern Languages
Jackson Baron, Geography & Environmental Studies
Madison Morgan, Journalism, Communication & New Media
Noor Shubear, Psychology
Shannon Cooper, Visual & Performing Arts
Student Ambassador Awards:
Emiko Ohama, English & Modern Languages
Brandon Turner, Geography & Environmental Studies
Teshu Agarwal, Journalism, Communication & New Media
Elena Plotnikoff, Philosophy, History & Politics
Pia Pennekamp, Psychology
Samantha Baker, Sociology & Anthropology
Melanie Banman, Sociology & Anthropology
Brittney Martens, Visual & Performing Arts
Study Abroad Awards:
Harry Chadwick, BA
Sheldon Eyzenga, Journalism
Alison Hodgins, Journalism
Aliya Hussein, Journalism
Kole Lawrence, BA
Bogdana Prymak, BA
Ellora Sundhu, BA
Paige Thomas, BA
Kyana Lawrence, BA
Ian Bolton, Communications
Megan Cairns, BA
Moira Laidlaw, BA
Robert Wisla, Journalism