Posted on: June 7, 2016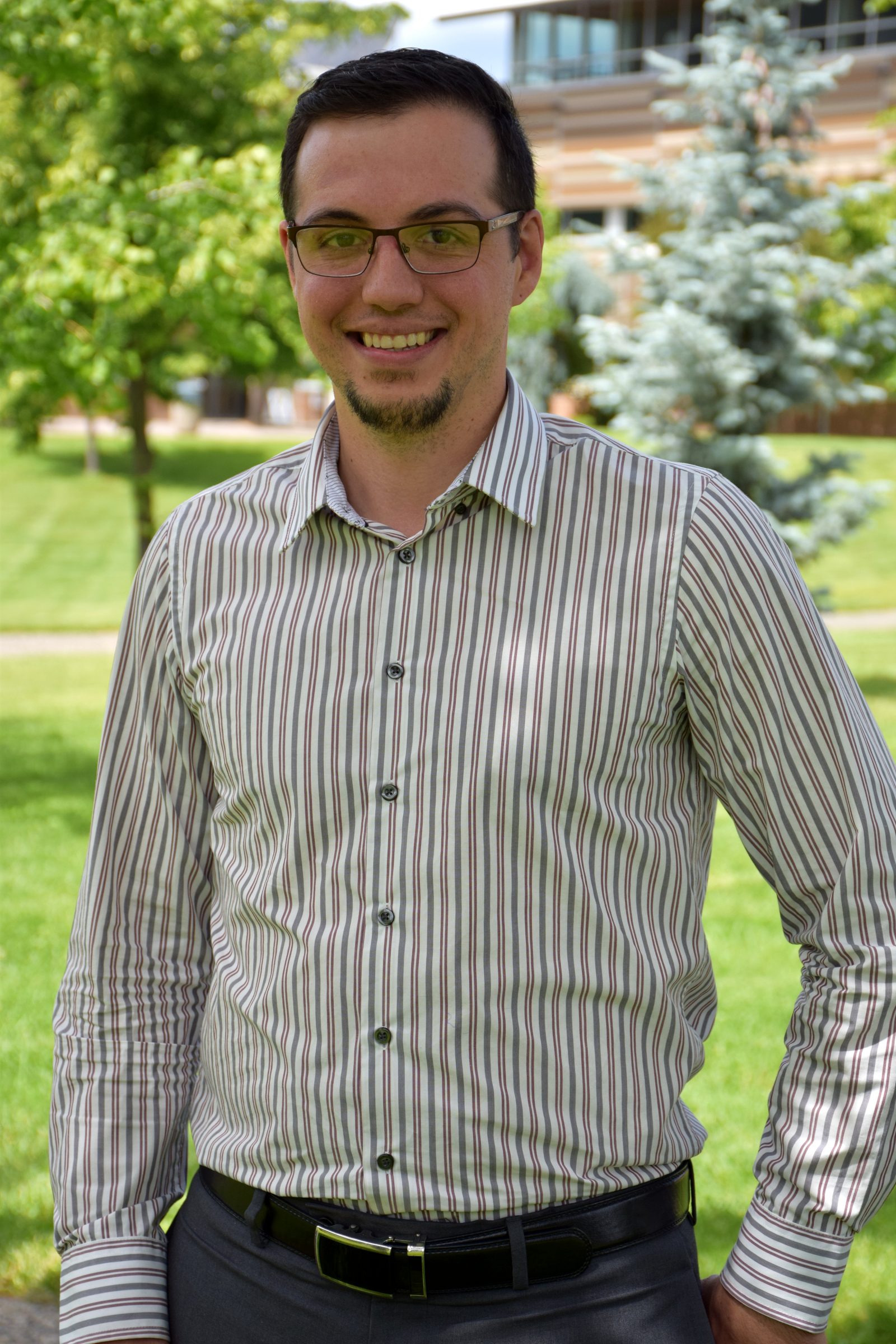 When Aaron Coelho reflects on his academic life, it becomes clear that his determination to make the most of every opportunity has been key to his success.
On Wednesday, Coelho will be awarded the Governor General's Academic Gold Medal — the highest achievement offered to Canadian graduate students. When he received the news, it came as a complete surprise.
"This isn't something you apply for, so I really couldn't believe it. It's a very prestigious award, and it wasn't something I even considered myself in the running for."
For more than 140 years, Governor General's Academic Medals have recognized the outstanding scholastic achievements of Canadian students, and this is only the second time the medal has been awarded at TRU.
Read: Governor General's Gold Medal a team effort
Coelho grew up in Trail, BC and began his postsecondary education at Selkirk College before transferring to TRU, where he completed his Bachelor of Science degree with a major in cellular, molecular, and microbial biology in 2008.
After graduation he moved to Vancouver where he found work with FP Innovations, a not-for-profit organization that specializes in the development of scientific solutions to improve the competitiveness of the Canadian forest sector. While there, he was truly able to put his degree to work.
But in late 2012 he heard of a new research project being undertaken by Dr. Wendy Gardner and Dr. Tom Pypker, and when he was offered the opportunity to join their team as a graduate student researcher, he didn't hesitate. In January 2013 he began his Master of Science in Environmental Science.
Coelho would spend the next two years investigating the decline in the number of ponds in British Columbia grasslands, an issue of vital importance to the ranching industry.
"In BC, one per cent of our land base is grassland, but 99 per cent of those grasslands are working rangelands, and over the last 15 to 20 years ranchers had been noticing the disappearance of surface water."
By comparing historic aerial photos to modern satellite images, Coelho was able to determine that the number of small ponds and surface water area in BC's Southern Interior grasslands has declined by more than half. The research would go on to investigate the cause of the decline. Since the early 1900s there has typically been a large snow event every four to seven years. Due to changing weather patterns as a result of climate change, however, the last large snow event was in 1996. Spring snowpack is of vital importance to the recharge of these wetland systems.
"Also, from 1900 to 2012, the air temperature has increased, which is directly related to evaporation rates," Coelho explained.
Grassland ponds are vital to maintaining a healthy ranching industry, as cattle only graze within close proximity to a source of drinking water. This means that the more ponds disappear, the more grassland becomes inaccessible for grazing.
"We do have good grazing management plans, and there are options for getting water to these areas," he said, but hauling water and drilling deep groundwater wells is costly.
While Coelho defended his thesis in April 2015, his research continues through his work now as an environmental consultant with Urban Systems Ltd. Thanks to funding from the Climate Action Initiative's Farm Adaptation Innovator Program, Urban Systems and TRU have partnered on the project, "Climate Change Impact Risk Assessment Tool for Ponds used as Livestock Water Sources." This research will show range users which ponds are at risk due to future climate change, allowing for proactive measures to be taken.
"This is a continuation of my master's research, and in the end, the goal is to develop a useful tool for the ranching community."
---
The Farm Adaptation Innovator Program is being delivered by BC Agriculture & Food Climate Action Initiative (CAI).  Funding for this program is managed by the Investment Agriculture Foundation (IAF) and the B.C. Agricultural Research & Development Corporation (ARDCorp), and has been provided by Agriculture and Agri-Food Canada and the BC Ministry of Agriculture through Growing Forward 2, a federal-provincial-territorial initiative.