Posted on: February 18, 2016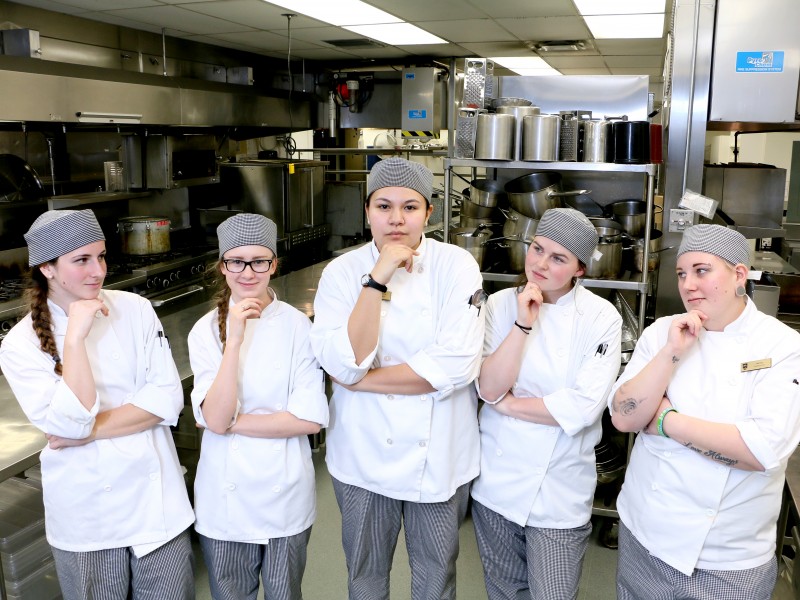 It's not often you meet up-and-coming celebrities in your chosen field, let alone work alongside them for a weekend.
Five Culinary Arts students experienced both this month when they were invited to play supporting roles with teams competing in Kelowna for the Canadian culinary championships, otherwise known as the Gold Medal Plates.
"I was working with a high-class chef and I knew he had come so far to compete at nationals that I didn't want to let him down," said student Lily McCrae, who was teamed up with Chef Stuart Cameron. "He would ask me to do something and I wouldn't come back until I had it done. I really wanted to impress him."
McCrae and her four Professional Cook classmates—Amy Wiebe, Jenny Hulford, Kennedy Crane and Cheyenne Calhoun—were assigned to five-person teams during the Feb. 4-6 competition. Performing a range of tasks from preparation to less-complicated parts of plating, they were constantly drawing on what they've learned at TRU while absorbing what they could from the experience.
Like the cooking challenge shows on television, teams had to work collaboratively under pressure, manage their time, estimate how much food to prepare and what to pair it with, and not let their emotions boil over. The stakes were high, with the winning chef driving home a new BMW. Wiebe's chef, Matthew Batey, finished second.
The weekend was a blur, but the five say they've definitely made the correct career choice.
"I learned calmness within the excitement," said Hulford. "For me it helped solidify that I can function under those parameters and standards. I learned that I can be calm and collected, that I can still talk to people and that I can get through high-stress situations without freaking out and having a panic attack."