Posted on: December 23, 2015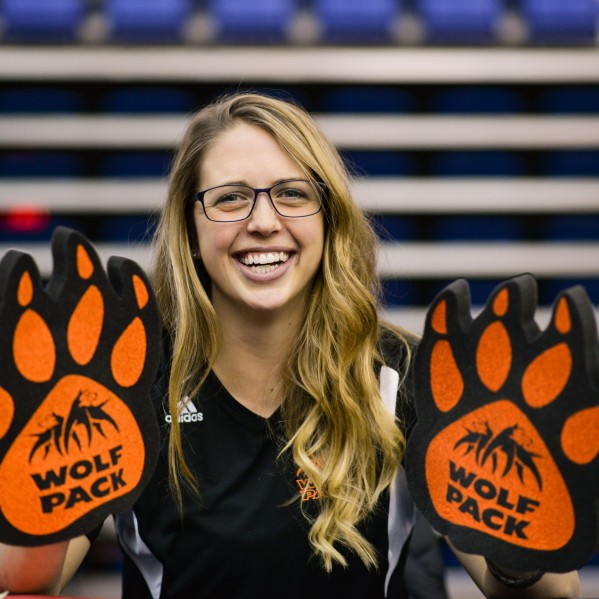 Get in the game
Catch TRU athletes in action! Join mascot and #1 fan Wolfie to cheer on your friends or classmates and take in the energy of a live game. Back the WolfPack as they represent TRU across the province and nationally in soccer, basketball, volleyball, swimming, cross-country running, baseball and cheerleading.
Back the 'Pack
TRU's eight WolfPack varsity teams compete in Canadian Interuniversity Sport (CIS), the top varsity level in Canada: men's and women's soccer, basketball and volleyball, co-ed swimming and co-ed cross-country running. Men's baseball and the WolfPack cheer squad are club teams representing TRU in individual leagues.
Whether it's the field, court, pool or trails, the WolfPack are on the prowl nearly year-round, fostering Kamloops' reputation as Canada's Tournament Capital and giving you plenty of opportunity to participate in the WolfPack experience.
Setting the bar
The bar is held high for all student athletes both in the game and in the classroom—and the 'Pack rises to the challenge. Last year, two men's volleyball players and one women's volleyball player won top national athletic honours, and 32 Scholar-Athletes were recognized—leading the 'Pack with a GPA of 3.5 or above. Through the Pack Academic Edge (PACE) program, senior WolfPack members volunteer as academic mentors to first-year athletes.
On the prowl in the TCC
The world-class Tournament Capital Centre (TCC), next to campus, is home to WolfPack basketball and volleyball—check the schedule for games—and swim team action is in the Canada Games pool. When not at the TCC's outdoor track, the cross-country team may be found among Kamloops' vast trail network. Catch soccer matches at Hillside Stadium next to the TCC, while MacArthur Island Sports Park's NorBrock Stadium is home to baseball. And watch for the cheer squad at various competitions.
Orange you glad you went?
Grab a friend, head to the game and don't forget to don the varsity colour to show your support for the 'Pack. You can't beat the great value—tickets are $2 a game, or $30 for a season ticket. So get in the spirit—high-five Wolfie, cheer on the players and maybe even let out a hearty WolfPack howl.
Balance your academics with play
Looking for an athletic experience of your own? Or just a fitness break to boost your brain power? Check out the intramurals, free fitness classes and special events offered by TRU Recreation at the TRU Gym. Unwind with yoga. Strengthen with Zumba or a workout. Play some drop-in badminton or join a team in basketball, volleyball or indoor soccer intramurals. You can also take advantage of the TCC facilities with free aquatic centre access with your student UPASS, and 50% off monthly fitness centre memberships.