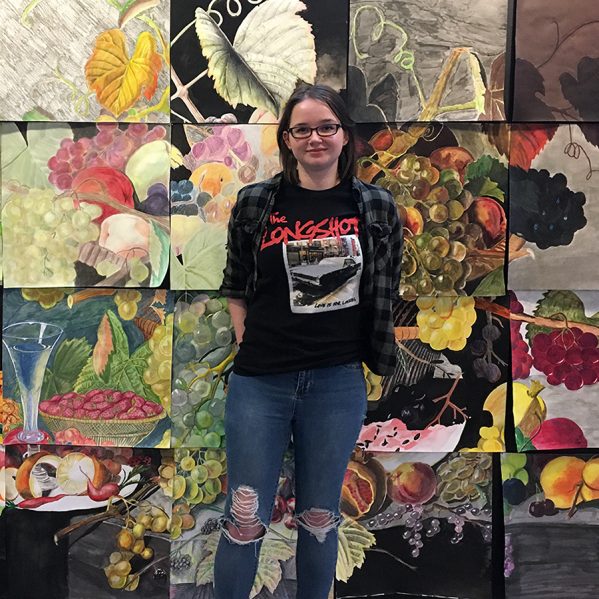 Nearly 200 first and second year students participated in research in the classroom this semester as part of TRU's new Research Coach program. The program is designed to reduce barriers to participation, and to encourage more — and earlier — engagement in research.
 Elisabeth Allchin spent the semester working as a Research Coach under the direction of Lea Bucknell in her Visual Arts 1010 course, 2D Creative Design: Thinking & Making. Allchin coached the students through a project that found them creating a single section of a still life painting three times using three different methods.
"The idea of coming in and brainstorming with a group of first year students — most of whom probably aren't in the visual arts — was appealing to me. I liked the idea of helping people figure out how to do research in the visual arts, which is very different from research in other disciplines."
Allchin's experience as Research Coach was so positive that she intends to pursue her own, independent research.
"I'm planning to apply for a UREAP (Undergraduate Research Experience Award Program) because this has been a really great experience, and it's gotten me more interested in research in general," said Allchin.
The students in VA 1010 went on to exhibit their work at the Kamloops Art Gallery, Still Life Exploration: Values of a Fruit Basket, will be on display through June 29.
What is a research coach?
The Research Coach program allows a faculty member to identify a third or fourth year student with research experience, who will then receive special training and a $1,500 award. That coach then works with the faculty member to design a research experience for a first or second-year class. The students in that class will spend the semester working on the research under the guidance of the coach.
Lanette LeWarne, who is in her final year of a social work degree, worked as a Research Coach alongside Dr. Oleksandr (Sasha) Kondrashov. Students in Social Work 2120, An Introduction to Social Welfare in Canada, spent the semester researching and developing posters to address social welfare concerns in the community, and possible solutions.
Several students presented posters during Research Week at the Research Coach Showcase, while others were emboldened to present during the Undergraduate Research and Innovation Conference.
The entire experience was rewarding, said LeWarne, who recognizes that even the word "research," might scare students away.
"It doesn't have to be intimidating. You're going to be researching something that's of interest to you. I'd hate for someone to not participate in research because they're worried it's difficult, or that it's just for science," she said.