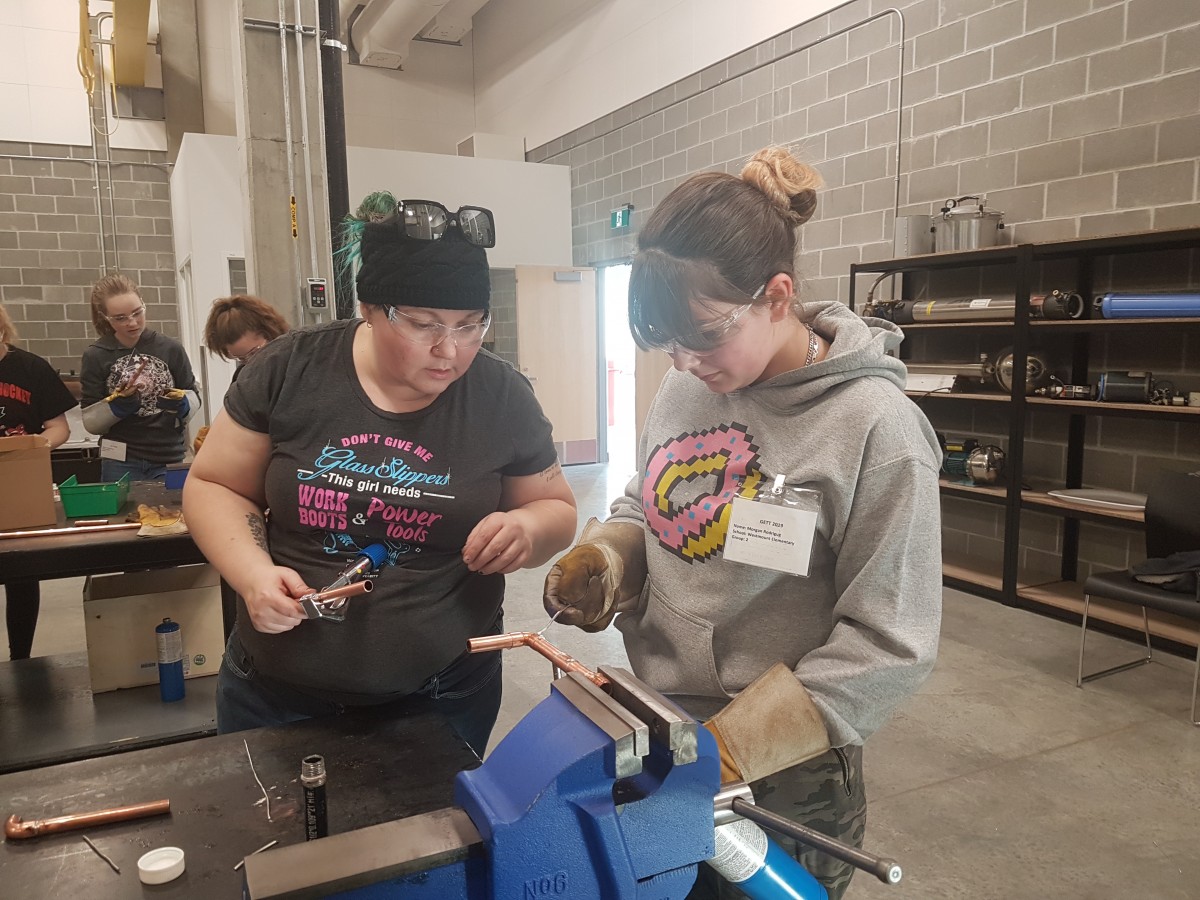 Making the jump from high school to university can be a scary one, for some. Thanks to the new Mind the Gap initiative with TRU and Kamloops-Thompson School District No 73 (SD73), students are becoming more prepared for education beyond Grade 12.
"TRU is becoming a world-class university and it's right here in our backyard. I love the idea of connecting the two sides on a bunch of different projects," said Roy Styles, vice principal of Arthur Hatton Elementary.
The inaugural year of Mind the Gap projects was celebrated on April 10 at the Grand Hall in the Campus Activity Centre, as instructors from both the high school and post-secondary level gathered to discuss and display their work from this past year. The project is part of the Centre for Excellence in Learning and Teaching (CELT) and was funded by TRU's Strategic Initiative Fund grant.
"The big picture goal of this project was to build a partnership between the school district and the university, so we can increase the sharing of information between the two sites," said Lorry-Ann Austin, a lecturer at TRU.
This year, approximately 275 SD73 students and 17 SD73 teachers worked with 100 TRU students and 25 faculty members across 16 different projects.
Hands-on and engaged learning along with the continual building of partnerships allowed this program to succeed once again.
Girls Exploring Trades and Technology is among the more popular projects and is run by TRU's Heather Hamilton and SD73's Kerry Gairdner.
This project was created for girls in grades seven through nine, as an addition to the option already in place for girls in Grade 10 to 12.
Stretched over two days, the group of 70 sampled carpentry, power engineering, mechanics and refrigeration. 
"We know that 11 percent of trades in BC are made up of women and it is an underrepresented area that we feel needs more involvement," said Gairdner, the SD73's co-ordinator of Trades and Transitions. "The girls said they loved it in the feedback and want to do it again. Some said they were even considering the trades as a career."
Not every project was designed with the specific goal of exposing kids to potential careers.
Led by Sa-Hali Secondary School teacher Nichelle Penney and Austin, the Exploring Truth and Reconciliation in the Kamloops Context project allowed high school and university students to explore Indigenous issues and see how policy comes to life in the Kamloops community.
"My group worked on a timeline about Indigenous justice in particular, and the First Nations Court in Kamloops, and how it's changed for the better," said Parker Lehmann, a Sa-Hali student.
Sustainability is another major topic around campus lately and some Arthur Hatton students learned a few ways to lower their environmental impact.
"Our students connected with TRU's Sustainability Office, checked out the bike blender and learned about composting. We know that TRU is the number one university in the world when it comes to sustainability, so they wanted to see what that was about and bring something back to our school," said Paul Denby, a teacher at Arthur Hatton.
Whatever the program was, both high school and university students, TRU faculty members and SD73 teachers gained knowledge and inspiration from their involvement in Mind the Gap.
The Mind the Gap program will return for the 2019-2020 school year. For more information contact the Mind the Gap Co-ordinator Susan Lidster at slidster@tru.ca.