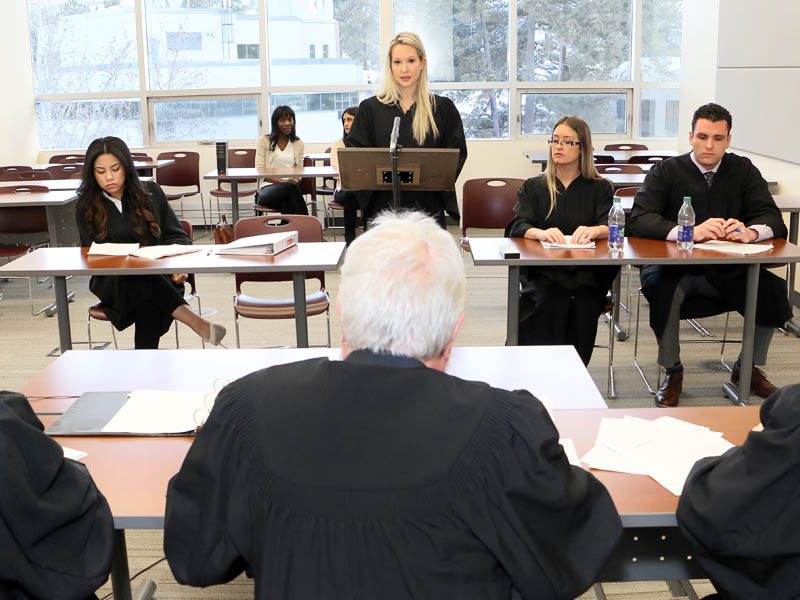 "All rise! This honourable court is now in session!"
These were the bellowing words of TRU Law sessional instructor David Paul, as he announced the start of a first-year moot court session at TRU Law.
The first-year moots are a mandatory capstone of Paul's course in Fundamental Legal Skills, a course in which students examine the Canadian legal system and learn how to research the law.
"In this course, students learn how to identify relevant facts and take a position. They learn to synthesize information and engage in legal analysis" said Paul.
The moots allow students to put their oral advocacy skills to the test.
Over the three-day affair, 28 teams of four students (two crown counsel, two defence counsel) argued a case in front of a trio of judges. The volunteer judging panels consisted of TRU Law faculty members and many members of the Kamloops Bar Association.
"Volunteering as a moot judge provides an opportunity for students to meet local lawyers and judges, and for members of the local bar and bench to see firsthand some of the up and coming legal talent," said Assistant Professor Lorne Neudorf, one of the judges.
"The judges grill the students," explained Paul. "I tell them there's a Simon Cowell on every bench; some are going to be nice and some are going to be not so nice. It's getting them ready for the real world."
In this year's moot, the sides debated a case revolving around the defense of necessity, after a character in the fact pattern drove under the influence in a bid to get his girlfriend, who was unresponsive, to a hospital.
Luke Ongman, a student who acted as crown counsel, said the experience was an opportunity to gain exposure to the practical side of learning the law.
"It's the first time I have stood up and spoken on an issue. It involved thinking on our feet," Ongman said of presenting his case.
"Before, it was about studying the fact pattern. We researched the law, and applied the law to the facts."
Following the judges' ruling, students receive feedback on their courtroom presence—things like pacing, cadence, pronunciation and volume—and the etiquette of addressing the judges.