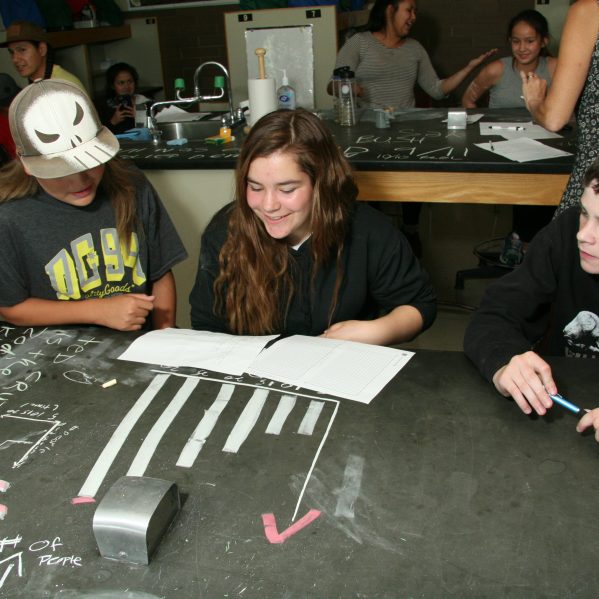 Not everyone is cut out for a career in science or health care, but Lauranna Karlsen believes she is.
"I want to be a surgeon because I like to help people," said Karlsen, who was one of 20 high school students at TRU for the annual sciences and health sciences camp for Aboriginal youth. The July 25-29 camp's overarching goal was to spark interest in sciences and health care and if an interest already exists, to stoke it. Campers were from around BC, with most from Kamloops and surrounding communities.
Karlsen knows many more years of schooling are before her and is OK with that. She's driven by a higher calling.
"I really think there should be more role models out there so youth can look up to us and realize there are more options for the future," said Karlsen, who is going into Grade 11 and lives in Port Alberni. She is a member of Cook's Ferry Indian Band.
Indigenous people tend to be under-represented in health and science and TRU Director of Aboriginal Education Paul Michel said one reason is because the pre-requisite courses aren't being taken in high school. By the time college or university rolls around, they're channeled in other directions.
Another explanation is the disconnect Indigenous learners have with the European model of teaching science. This mis-match can turn students off and steer them in other directions.
Campers were exposed to careers related to nursing, microbiology, mathematics, animal biology and respiratory therapy and with each, hands-on activities and Indigenous perspectives were woven in. The camp program paid homage to Indigenous culture when students spent part of a day in Chase learning about the roles and uses of traditional plants and medicines and played the traditional strategy game lahal — commonly referred to as stick games — while drummers accompanied and sang traditional songs and meals were preceded by a blessing.
And to keep things lively, campers had a mix of recreation and games the likes of indoor rock climbing, indoor and outdoor swimming, laser tag, a scavenger hunt and a night at the movies.
During a stop to one of the nursing labs, campers learned two foundations of good health — how to properly do a blood pressure test and proper hand washing. Fourth-year nursing student Jen Sage was among those assisting and and encouraging the campers to pass along their new found knowledge.
"A big part of nursing is teaching, whether it be in a patient/hospital environment or a camp like this," said Sage. "It's great experience getting involved with the youth because they are agents of change and will be making a difference in five, 10 years down the road."
Earlier in the week in the microbiology lab, mouth swabs were done and the bacteria examined. To visualize data collected during a group activity involving the passing around of a hula hoop, campers used chalk to draw graphs on lab desktops. Across the street from the science building's main entrance, biology faculty member Matt Reudink told personal stories of bird research and the explained how cylindrical feeders around campus are collecting data through electronic tracking equipment. In the respiratory therapy lab campers used instruments to clear the airway of a mannequin.
Makayla Squinas is from Quesnel and a member of the Lhtako Dene Nation. Going into Grade 10, she is now thinking of classes in biology. For her, it was swabbing the counters and desks and discovering what lurked on what appeared to be clean surfaces.
"It was interesting to see something that's all around you, but you don't know it's there because you don't see it (with the naked eye). It was interesting to see new things and learn more about them," said Squinas.
And to those thinking science or health care isn't for them, it's too difficult or don't like it?
"How do you know you don't like it if you don't try? It's good to keep your options open because you never know. Later on in life you may want to do something else, or something like this."