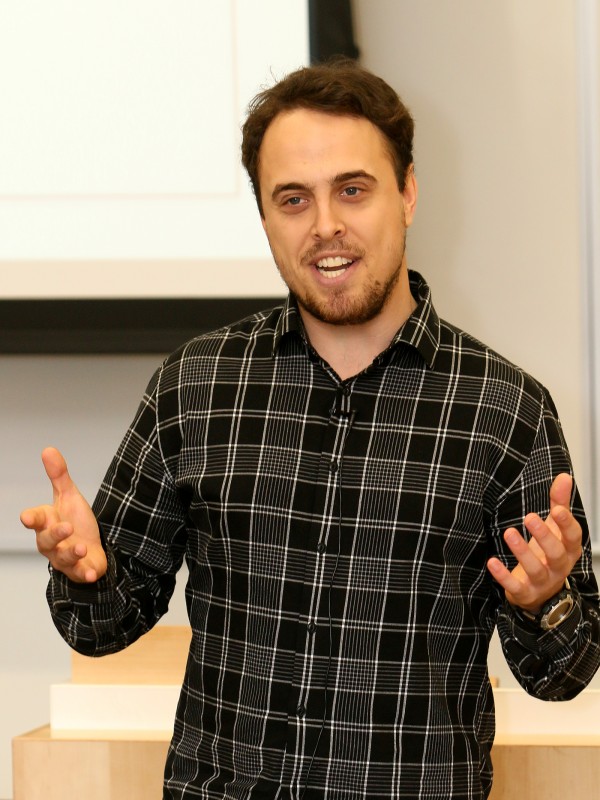 A great topic and a lot of confidence is what it took for Jared Maida to walk away as winner of TRU's third annual Three Minute Thesis competition.
The Master of Science in Environmental Science student's presentation, "Dealing with Disturbance: How do rattlesnakes cope with change," captured the judge's attention immediately.
"There was a good natural feel to the presentation. He projected well, and knew the topic really well," said Kamloops Mayor Peter Milobar, one of the event judges. Milobar was joined in the judging process by B100 Morning Show host Cheryl Blackwell, and Western Canada Theatre General Manager Lori Marchand.
The venue was filled to capacity for the event, which saw Master of Business Administration student Tanya Thomas awarded Second Place and People's Choice for her presentation, "Taking the Confusion out of the Fusion: A Study of the Impact of Intercultural Communication on Multicultural Teamwork."
Maida has presented his research before, but the 3MT provided him with a unique opportunity.
"This situation is different, in that your target audience is non-scientific, so you have to change your approach," he said.
He took the opportunity to participate because it allowed him to reach an audience that normally wouldn't learn about his work.
"It's also a great chance to practice promoting and communicating my work as well. It can be a tough process, but it's very important to learn how to do."
Maida will now move on to represent TRU at the Western Canadian 3MT, hosted by UBC-Okanagan on April 29. Sixteen universities will participate in the regional event, and the winner will go on to compete, virtually, in the Canadian 3MT, hosted by the Canadian Association of Graduate Studies.
What is 3MT?
The first 3MT was held at the University of Queensland, Australia, in 2008 with 160 students competing. Since 2011 the popularity of the competition has increased and 3MT competitions are now held in at least 170 universities across more than 18 countries worldwide. There are 32 universities in Canada competing in the event.
Presenters and the titles of their talks
Tanya Thomas, MBA
"Taking the Confusion out of the Fusion: A study of the impact of intercultural communication on multicultural teamwork"
Stephanie Winton, MSc
"Tiger Salamanders make a break for it: How Dispersal Behaviour Affects Road Mortality"
Lachlan Gonzales, MEd
"Bringing History to Life: Augmented Reality and Haptics"
Jared Maida, MSc
"Dealing with Disturbance: How do Rattlesnakes Cope with Change?"
Hilary Hamilton, MSc
"Tolerating Stress: What does Low Tide Mean for Marine Invertebrates?"
James Gjaltema, MEd
"Using 3D Virtual Environments to Enhance Student Engagement in Higher Education ESL Classes"
Ernest Ana, MBA
"How Multinational Firms Estimate their Foreign Exchange Exposures"