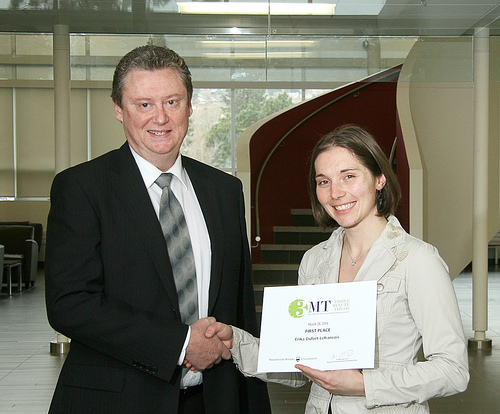 Master of Environmental Science student Erika Dufort-Lefrancois will be putting her boiled down thesis to another test at the Western Canadian 3 Minute Thesis championships next week in Calgary.
Dufort-Lefrancois will present against 10 other regional winners on May 2, including the representative from the host University of Calgary. From there, three will advance to the national championships where they will face off against the top three from each of the Ontario and Eastern regions in what will be a field of nine finalists.
The Canadian championship will be a virtual video competition judged by a panel of non specialists. The public will also be able to participate by voting for the People's Choice Award.
The national finalists will be viewable here.
The thesis competition is also known as 3MT and was developed by the University of Queensland in 2008. It has since risen in popularity, with UBC hosting the first university competition in 2011. In 2013, 16 Ontario universities sent representatives to the inaugural Ontario competition.
Dufort-Lefrancois earned the right to represent TRU when she won TRU's 3MT on March 28 with her presentation "How Tightly do Indole and LPS Hug? Determining a Binding Constant".
Coelho second at TRU
Aaron Coelho, who is also an MSc Environmental Science student, was runner-up with his presentation "Evaluating the decline of closed-basin ponds in BC's semi-arid grasslands".
More information
Will Garrett-Petts
Associate Vice-President Research and Graduate Studies
Thompson Rivers University
Tel: 250-828-5410
Email: petts@tru.ca