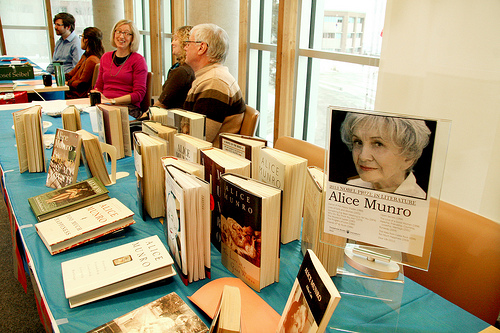 Canadian literary icon Alice Munro is being awarded the Nobel Prize for Literature today (her daughter is attending the presentation to accept the Prize on her behalf), and the TRU community is celebrating her achievement with a public event at the Brown Family House of Learning.
Munro, who has been called Canada's Chekhov and our finest writer, is the first Canadian woman to win the Nobel Prize for Literature. TRU's English and Modern Languages faculty, who have read and taught her work for many years, have invited the community to join them to revisit or discover Munro's compelling stories of small town lives.
"Munro is a brilliant writer, perhaps our best, certainly the best in her chosen form, the short story," says department chair Dr. George M. Johnson. "She chronicles mundane, domestic lives, for which she was originally criticized in the 1960s when women writers were treated suspiciously if not with hostility. She realized that people's lives in Huron County in southwestern Ontario, where she was born and returned to live after 20 years in BC, 'were dull, simple, amazing, and unfathomable—deep caves paved with kitchen linoleum.'
"Her stories touch all Canadian lives, and reach toward the universal—the sure sign of a writer whose works will endure. We should all in Canada be proud of such a courageous, insightful, profound writer."
---
Test your Alice Munro knowledge with the quiz below.
---
In conjunction with the TRU Library, the department welcomes students, faculty, staff and the public to the House of Learning (HOL304) today from 12pm to 1:30, to mark the occasion with comments and readings of Munro's work by faculty, video of interviews and the Nobel acceptance, a quiz with prizes, and refreshments.
View the 2013 Nobel Prize awards presentation on YouTube. You'll find the video cued up to the beginning of the Munro segment.
Contact:
Dr. George M. Johnson
Professor and Chair
English and Modern Languages Department
Thompson Rivers University
250-371-5556
gjohnson@tru.ca
---
---
How well do you know Alice Munro? Take the following quiz to find out. Click to view the Answers 
1. What is the name of the 2006 movie, directed by Sarah Polley and starring Julie Christie and Gordon Pinsent, that is based on a Munro short story?
2. In 2009, Munro won a very special international prize. What was it?
3. With what magazine has Munro had a relationship that goes back to the 1970s?
4. How many murderers in Munro's book are caught and punished for their crimes?
5. What university did Alice Munro attend?
6. What is the title of Munro's first published book?
7. How many other Canadians (born and raised) have won the Nobel Prize for Literature?
8. How many other women have won the Nobel Prize for Literature?
9. How many books has Munro written since she first announced her retirement in 2006?
10. What part of Canada is Munro most famous for depicting?
11. What two major Canadian literary awards has Munro won multiple times?
12. What was Margaret Atwood's early Tweet of advice to Munro following the announcement of Munro's Nobel win?
13. In what town was Munro born?