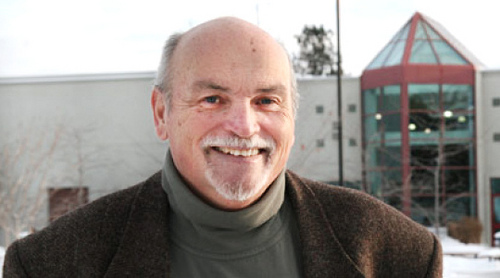 To recognize Tom Owen's outstanding work in the area of Environmental Sustainability at TRU, a student financial aid award has been created called the Tom Owen Environmental Sustainability Award. Each year, $500 will be awarded to a student who displays a keen interest in sustainability through research, leadership and career aspirations.
Owen recently passed away after taking early retirement for health reasons from his post as Director, Environment & Sustainability. He had returned home to Winnipeg to spend time with family.
---
Listen to an interview with TRU Dean of Science, Tom Dickinson as he recounts
the impact Tom Owen had at Thompson Rivers University.
---
CONTRIBUTE TO THE AWARD
A campaign is underway to build the award to endowment status, which requires a minimum amount of $20,000, and is expected to take upwards of three years to reach that goal. Reaching endowment status will allow the award to be given out on an annual basis. In the meantime, $500 will be awarded.
To contribute, go to Make a Gift and select Specific Scholarship or Award. When prompted, type in Tom Owen Environmental Sustainability Award.
---
Read the announcement from September 2008
of Owen's appointment
to Director, Environment & Sustainability.
---
OPEN LETTER TO TRU COMMUNITY
In an open letter to the TRU community, Peter Tsigaris, Chair of the Environmental Advisory Committee of Senate and the Board of Governors as well as being an Associate Professor in Economics, had this to say about Owen and his time at TRU…
"Tom has played an instrumental role to move TRU towards becoming the University of Choice for Environmental Sustainability. His continuous dedication, leadership, commitment and successful effort over a short time span has made a huge difference."
ACCOMPLISHMENTS WHILE AT TRU
Psigaris shared the following as some of Tom Owen's major accomplishments while at TRU…
OVERALL THOMPSON RIVERS UNIVERSITY
Improved the Canadian University Report Environmental Commitment 

Ranking from a D (in 2008) to a B (2012).

Now leads its peer group comparison institutions in sustainability.
FINANCIAL AND ENERGY
Led $1.5 million dollar campus retrofit which is currently 

providing TRU with an annual savings of over $150,000 and reduced energy 

use on campus by 12%.

Secured funding for the Energy Manager from BC Hydro for the last 4 

years at $100,000/year

Responsible for two new funds on campus – The Sustainability Grant 

Fund will receive $100,000 each year to fund initiatives and the

Revolving fund uses money saved from retrofits and re-invests them in 

more resource conservation projects.

Started TRU's reporting to STARS, which earned TRU a silver 

rating.

Made TRU a founding member of the Billion Dollar Green Challenge, 

one of only two Canadian universities to be selected (other was UBC).

Brought in distinguished and world-renowned speakers to campus – 

James Hoggan, Captain Charles Moore, Ivan Zavadsky

Coordinated the development and implementation of TRU's first 

Campus Sustainability Action Plan a multi-stakeholder document that

guides the university's sustainability work over a 3 year period.

Responsible for the development and creation of TRU's Environmental 

Policy
COMMUNITY
Spearheaded Green Golf Tournament, fun social event for all TRU 

staff that is always a summer highlight

Created Environmental Award, recognizing faculty, staff and student 

leadership in sustainability.

Talked to the media and community about environmental issues.

Still found time to supervise Phd students, assist student clubs 

with their projects (TRU Eco) and hired at least five co-op students during 

his time as director.