Networking 411: Get Noticed in the Job Market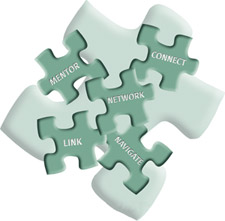 This event is focused on Science and Tourism students although everyone is invited to attend and learn from industry professionals.
It is modeled after the speed dating format and is unlike most info sessions you'll attend.
There'll also be free food & prize draws.

NETWORKING 411
For Science and Tourism
Date: February 2, 2011
Location: CAC Grand Hall
Time: 4:30pm – 6:30pm
FREE FOOD & PRIZE DRAWS
Why Attend?
HELP build your career
PREPARE for today's job market
FREE to participate
NETWORK with industry professionals
GAIN valuable career advice
90 minutes well spent
This educational hands-on learning event introduces students to the benefits of networking and mentorship relationships. Designed to be a quick introduction of questions and answers available from industry professionals, participants typically have a lot of fun.
Confirmed Mentor List will be posted on the moodle site. To view the list add us on Moodle – Career Mentoring, enrolment key: careermentoring
Program details
Mimics the speed networking format
Students meet 5 – 10 professionals in 60 minutes and discuss their experiences and careers responsibilities
It is an educational hands-on career event to help students overcome their inhibitions surrounding networking and mentoring relationships while illustrating the benefits of asking questions to enhance their career understanding
We are also hoping to illustrate that the relationships developed through networking situations are lifelong contacts and vital in enhancing career success
More information about the Career Mentoring Program
Questions?
careermentoring@tru.ca