A respected Thompson Rivers University academic who inspires fledgling biologists with an annual tribute to Charles Darwin has been named Dean of the TRU Faculty of Science.
Beginning April 1, Dr. Tom Dickinson will become Dean of TRU's largest faculty, which has recently been restructured to include the School of Advanced Technologies and Mathematics.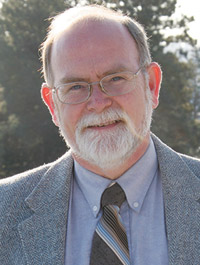 "We are pleased to have Dr. Dickinson join the senior management team here at TRU.  His experience as a leader spans three phases at our institution, " said Dr. Ulrich Scheck, TRU Provost and Vice-President Academic.  "He has an excellent understanding of our university's strengths and aspirations. I am delighted that he has agreed to serve as Dean for the next five years."
In 1989, Dickinson accepted a job at Cariboo College to teach UBC courses in Vertebrate Biology, Ecology, and Evolution.  He assisted in the development of UCC's Natural Resource Science program and taught its first courses in Wildlife Management. With others he helped establish the Wells Gray Education and Research Centre where he taught field courses for ten years.  He has also played a major role in provincial naturalist organizations and land-use planning initiatives and still serves as a volunteer consultant to government on land and resource management issues.
Dickinson has also served in the capacity of Interim Associate Vice-President, Research at Thompson Rivers University and is currently the Interim Dean, Faculty of Science.
"I have enjoyed being part of the senior leadership team at TRU and I find the mixture of jobs that make up the Dean's position both challenging and rewarding," Dickinson said. "I am looking forward to working with a really fine group of colleagues to deliver what I think is an exceptionally good undergraduate science education."
Dr. Dickinson was born in Toronto and developed a love for nature during summers in Northern Ontario.  He attended Queens' University and graduated with an Honours BSc, obtaining both a Major in Biology and a Specialization in Biology.  Tom pursued graduate studies at the University of Calgary and then at the University of Pennsylvania.  Following his PhD, Tom returned to Canada to pursue post-doctoral studies at the University of Toronto, where he also held a faculty appointment in the Department of Zoology.
Contact
Dr. Tom Dickinson
Dean, Faculty of Science
(p) 250-852-7137,
(e) tdickinson@tru.ca