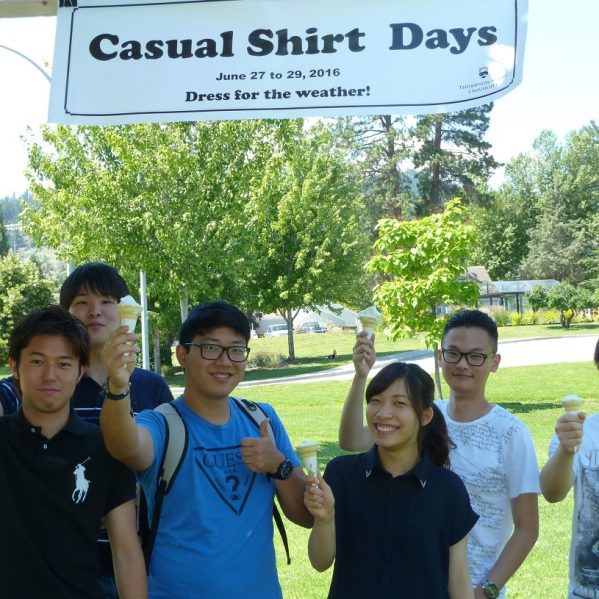 This year's 3rd annual TRU Casual Shirt Days, happening June 20, 21 and 22, is an opportunity to dress in casual and cool clothing (both types of cool) while we adjust the air conditioning (A/C) by two degrees in most campus buildings. The event is a way to demonstrate that through taking small actions, like dressing for warmer weather, collectively we can made a big difference towards saving energy and reducing the impacts of climate change. Plus everyone can stay cool with free ice cream!
Although the air conditioning will be adjusted for all three days of the event, the activities will only be on June 20 from 10 a.m. to 1 p.m. in front of Old Main on the Campus Green lawn.
Here are the details of what's happening that day:
Get your photo taken to enter the Casual Shirt Day Contest—the top three stories will win TRU Bookstore gift cards
Contest Rules: submit a photo of you in your favourite casual shirt or dress with a story in a few sentences of why it's your favourite. (Photos and stories can also be sent in via email or social media, 

#TRUCasualShirtDay

)
Enjoy the ultimate "casual" summer snack: a free ice cream cone
Win a prize by participating in simple sustainability quizzes
While we are mindful that temperatures can't be too warm in a working/learning environment, we often hear from people that temperatures are a bit too low, and that they would prefer less of a difference between outside and inside air temperatures. Casual Shirt Days is an opportunity to adjust the temperature by a degree or two, and for us to get valuable feedback from you on your ideal work and/or study conditions.
*Contact James Gordon at the TRU Sustainability Office with any questions or comments.
Facebook.com/TRUSustainability
Twitter (@TRUSustain)
Instagram (@TRUSustain)
#TRUCasualShirtDay