Posted on: April 13, 2018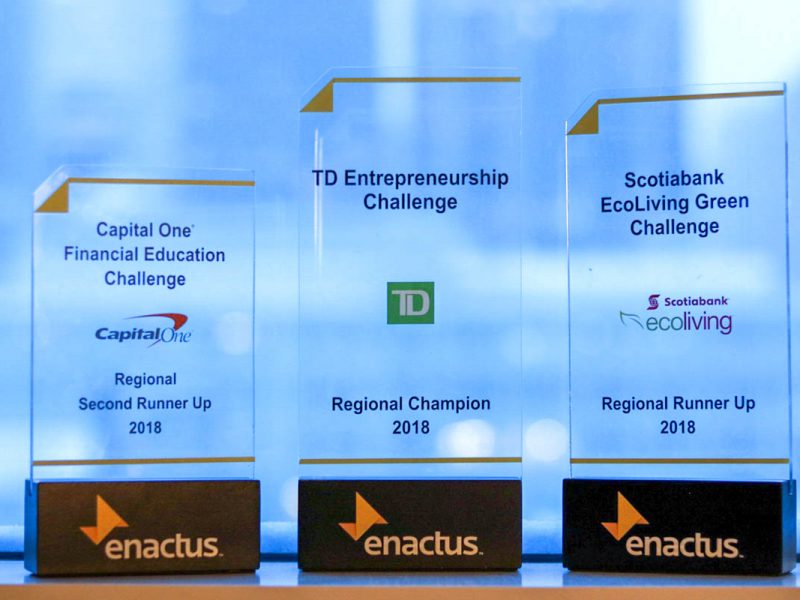 Don't throw out that used drink coaster, it could be your next greeting card!
Enactus TRU's turning of cardboard drink coasters into greeting cards while providing work for at-risk youth, has earned some of its members the right to present at the Enactus Canada National Exposition in Toronto, May 14–16, in the Entrepreneurship category.
Enactus TRU qualified for the national presentation after co-winning the category with Okanagan College at the Western Canada regional championships in Calgary this March.
The venture is called Coast Cards and has been in operation for nearly a year. During that time, hundreds of coasters have been diverted from the landfill, more than $1,000 has been generated in sales and three at-risk youth in the United Way Away Home program have earned some money by making the cards.
In Toronto, Devin Montagliani and Joey Tasker will present the Coast Card story to a panel of business leaders and, during that time, hopefully earn Canada's one qualifying spot in that category at the Enactus World Cup in San Jose, California, Oct. 9–11. Caroline Schmidt and George Gavriel will provide technical support for the two.
Two Enactus TRU teams headed to Toronto
Joining the entrepreneurship team will be Joel Mercer, Danika Schmietenknop and Eric Wichmann, who will present in the Enactus National Competition category and provide an overview of the year's activities as they relate to social impact, economic impact and environmental impact. They too will receive technical support from Schmidt and Gavriel.
Also in Calgary
Also competing for Enactus TRU in Calgary, but not advancing to Toronto, were teams in the categories of EcoLiving Green, Financial Education and Youth Empowerment. The EcoLiving Green team finished second, Financial Education was third and Youth Empowerment was outside the top three.
In all, 34 Enactus TRU members attended, with 30 of them having never attended a regional competition before.