Posted on: July 21, 2017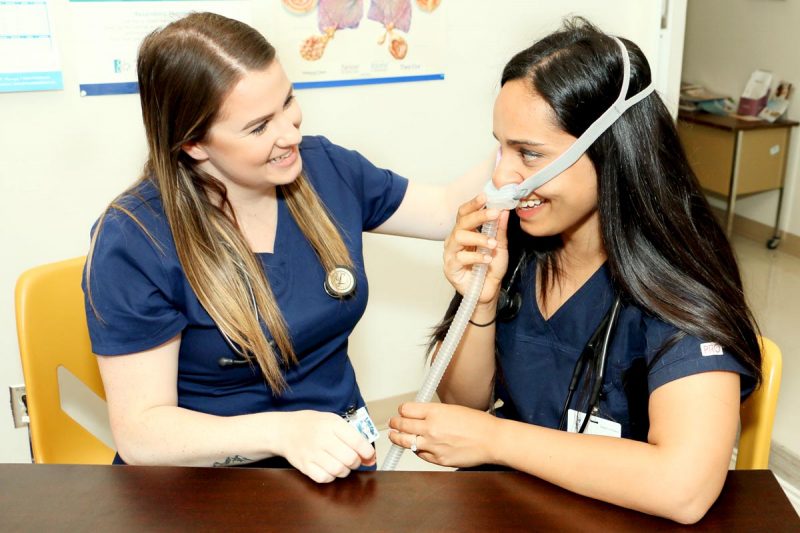 You won't find them napping at their summer jobs, even if those jobs are at TRU's Sleep Centre.
Rather, they're wide awake and alert because it's a dream summer job for second-year respiratory therapy (RT) students Nisha Jaswal and Sarah Mahaffey, who on a daily basis are applying their coursework to help real people work through their sleep disorders that are not only affecting their moods, energy levels, cognitive abilities and overall ability to function effectively, but also affecting those they are in contact with.
"It's an awesome opportunity to work with people in a meaningful way while learning what it's going to be like to work in a clinical setting," said Mahaffey.
It's been a busy 10 weeks so far and it's possible that by the end of August, the two combined will have seen 100 clients. They're seeing people of all ages, from as young as two years old to those in their late 70s. Thursdays are set aside for children and are seen under the supervision of local paediatrician Allyson Davey, with nurse Diane Henry and pharmacist Chris Cameron usually on hand as well.
Operating out of the third floor of TRU's Lepin Building, the centre takes in new clients, but only with a doctor's referral.
Started 19 years ago by RT faculty member Les Matthews, the Sleep Centre was an innovation then and continues to be so. Not only are students continuing to gain practical experience while improving the lives of people in the community, Matthews' inroads with companies and organizations in the RT field has created additional learning opportunities while offsetting capital costs of equipment and supplies.
Fantastic opportunity
To put the workload into perspective, RT students volunteer at the clinic during the school year as part of their coursework, and over the course of those several months, may see upwards of 15 people.
Each day is different for Mahaffey and Jaswal, with consultations, different tests, paperwork and general operation of the clinic under the guidance of RT faculty member Aaron Ladd. Tests in a typical day can include Level 3 sleep studies, taking vital signs, blood-pressure, walking tests, listening to breathing sounds, full chest and lung exams and diagnostics like blood pressure monitoring.
As busy as this summer has been, it's also been a rewarding one, said Jaswal.
"The biggest challenge is communication, especially with younger kids," said Jaswal. "They don't know how to articulate what is happening and they may only be able to say, 'I can't sleep.' There's a lot of trying different possible solutions, a lot of follow up."
Improving communication skills
In meeting people of all ages, backgrounds, ethnicities and assorted sleep issues, Ladd said students are provided numerous opportunities to work on assorted soft skills like reading people and responding in an appropriate manner.
"You're learning to ask questions and to listen in a different way," said Ladd. "You're listening for specific words, specific language, specific statements. Those skill give you the ability to communicate at a different level than just yes or no and to be able to actually open up and help them. Soft skills don't come naturally to a lot of people and this clinic allows students to work on them. Students come out of the clinic much more comfortable discussing problems and problem solving with clients in a collaborative way."