Posted on: June 5, 2017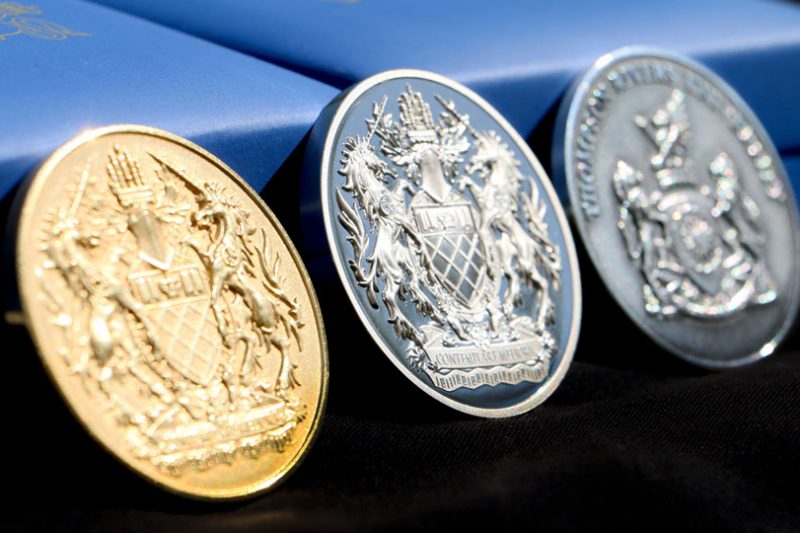 Congratulations to this year's recipients of national, provincial and TRU medals for their academic excellence. The following recipients will be recognized during Spring Convocation, June 7-9.
Polina Denisova
Governor General's Gold Medal
Polina was teaching at a university in her home town of Moscow two years ago, and decided to advance her career by pursuing a Master of Education. In her first year at TRU, she won a fellowship to serve as a Graduate Research Mentor for undergraduate research and scholarship, and helped coordinate the 2016 Graduate Research Symposium. She also assisted other graduate students as a tutor in the TRU Writing Centre. Outside her studies, she travelled with the Leisure Explore Activity Program, and organized events with the Russian-speaking club. In the fall, she will begin doctoral studies in educational leadership at the State University of New York.
Brayden James Richard Wilson
Governor General's Academic Medal (Silver) and TRU Medal in Arts
Brayden is driven by curiosity, which led him to major in philosophy, gain a political perspective and explore economics and geography. It pushed him into forging strong and valued working relationships with TRU faculty, and toward winning numerous scholarships and awards, including the Alvin and Lydia Grunert Scholarship, the Ken Lepin Award of Excellence in the Arts and the Undergraduate Research Experience Award Program. After two co-op programs, undergraduate research projects and work-study positions, Wilson plans to take a year off from academic life before starting a graduate program in the fall of 2018.
Christian Woolley
TRU Medal in Business Administration
Christian has followed in the footsteps of his parents, both chartered accountants, completing his Bachelor of Business Administration in accounting. During his studies, he worked as a bartender and banquet server on campus, and later as a server at Match Pub. He received the Alvin and Lydia Grunert Scholarship in 2015, and the Outstanding Business Student of the Year Award, the KPMG Student to Business Scholarship and the Daley and Co. Accounting Scholarship in 2016. He began his accounting career at KPMG Kamloops in January and has started working towards obtaining his Chartered Professional Accountant designation.
Mitchell Hentges
TRU Medal in Computing Science
Mitchell was drawn to computing science by his fascination with technology. A desire to apply his learning outside the classroom led him to join the TRU Computer Science Club, where he created a campaign using internet memes to promote the club's support lab services. He then spent the winter of 2016 on a study abroad semester in Sweden and enjoyed the experience so much, he would like to move there one day. His awards include the Computing Science Upper Level Scholarship, the Irving K. Barber One World International Scholarship and the ISACA – Vancouver Chapter Award.
Alli Patterson
TRU Medal in Education
Alli has had a longstanding desire to work with children and give back to the community, which made education a natural fit. Encouragement from her aunt, who teaches children with special needs, convinced Alli that becoming a teacher was the right path. TRU recognized her academic success and leadership potential with an Alvin and Lydia Grunert Scholarship in 2016 and a Ken Lepin Award of Excellence in 2017. She has received several other bursaries while at TRU. Hired recently by School District 73 as a teacher on call, she is hopeful to be hired full time.
Garnet Dirksen
TRU Medal in Fine Arts
Garnet has always been interested in visual art, and dedicated himself to the field after his second year of studies. He has since participated in many research opportunities, including the Undergraduate Research Experience Award Program, the Knowledge Makers Indigenous Research Award program and the Research Ambassador program. Additionally, he has contributed as a research assistant to several faculty members' projects. He received TRU entrance scholarships, the Kamloops Blazers Scholarship and the Fred Billows Memorial Scholarship. After graduation, he will attend Concordia University's Master of Fine Arts program in photography. He plans to continue working as an artist while teaching at a post-secondary institution.
Kristy Hamada
TRU Medal in Health Science
Kristy started her career as a Respiratory Therapist and was drawn to the health sciences because of a desire to broaden her understanding of the Canadian health care system and affect change through health policy. Her passion for knowledge and career advancement is evident through her list of accomplishments, including winning the Vancouver Coastal Health award for Excellence in Leadership and Professional Practice. Kristy currently works at Vancouver General Hospital in the role of anesthesia clinical assistant, staff educator, with plans to possibly complete a master's degree in the future.
Petermax Neumann
Medal in Interdisciplinary Studies
Petermax (Pate) chose the Bachelor of Interdisciplinary Studies program because it allowed him to focus his degree in adventure business and entrepreneurship, while earning credit for his work experience and personal initiatives. Pate blazed a few trails of his own, founding the TRU AdventureU Outdoor Club and researching conflict resolution strategies for multi-use trail systems. His research is being presented at a mountain bike symposium this fall. His academic accomplishments include the Undergraduate Research Experience Award Program, the Mary Martin Scholastic Achievement Scholarship, the Raymond and Marigold Patterson Bursary and the Learie/Sprott Award.
Alison Karlene Hodgins
TRU Medal in Journalism
Alison came to TRU to pursue journalism with dreams of becoming a travel writer. During her studies, she secured an internship working for My Passion Media, a Vancouver-based company that publishes several magazines including Canadian Traveller and Explore magazine. In her final year, she took the opportunity to study abroad in Seoul, South Korea and travelled to Japan and the Philippines where she continued to write. She has been accepted into the Master of Fine Arts in Creative Nonfiction at the University of King's College in Halifax, where she looks forward to exploring the east coast while continuing to publish articles about her travels.
Jennifer Petersen
Medal in Natural Resource Science
Jennifer's love of the outdoors and a drive to create a more sustainable world inspired her to take the Natural Resource Science program. She has built on her education by applying her learning to her summer jobs, working in industries such as forestry. The program has also taken her down a unique road of research that involved judging the age of snakes by closely examining their vertebrae. She has received a number of awards, including the Shuswap Naturalist Club Award, TRU Foundation Undergraduate Achievement Scholarship and the W.W. (Pat) and Helen Stevens Memorial Scholarship.
Kaitlyn Harding
TRU Medal in Nursing
Kaitlyn was inspired to go into nursing to help people through tough times in their lives. During her four years at TRU she was dedicated to serving her community, participating in events such as the Coldest Night of the Year program and Bell Let's Talk mental health campaign. An athlete on the WolfPack women's soccer team, she received the 2017 Cliff Neufeld Leadership Award. For her academic excellence, she was awarded a TRU Ambassador's Entrance Scholarship, the Dr. Stella Black Scholarship, an Alvin and Lydia Grunert Scholarship and a 2017 Ken and Maureen Lepin Prize of Excellence in Nursing.
Kurtis Manke
TRU Medal in Science
Kurtis was drawn to physics because it consistently challenged his thinking and gave him a greater understanding of the world. His undergraduate research on optimization algorithms led to a published paper. On a summer co-op term, he worked on a dark matter detection experiment at SNOLAB, an underground clean lab in Sudbury, ON. He recently worked with faculty member Dr. Richard Taylor on an acoustics project using a new speaker array. Kurtis won the Tom Walton and Roland Cobb Prize in Physics, the Robert Frazier Memorial Award and an NSERC-USRA research grant. He plans to take time off before attending graduate school.
Kaitlyn O'Toole
TRU Medal in Social Work
Kaitlyn was drawn to social work for its potential to effect change, ask hard questions and inspire deep conversations. During her studies, she amassed a lengthy resumé. She has worked as a research assistant, apprenticed with the Critical Cross-Border Conversations Research Group, facilitated community workshops and co-presented at conferences at TRU and beyond. In her final practicum, she was accepted into a six-month professional development program for non-profit leaders with the United Way Public Policy Institute. Kaitlyn is currently working in a remote community coordinating a community justice program. Next year she plans to pursue a Master of Social Work in Indigenous social policy.
Jessica Politewicz
TRU Medal in Tourism
Jessica is an outdoor adventure enthusiast with a passion for business and marketing, for whom the adventure studies major in the Bachelor of Tourism Management program was a natural fit. During her studies, she helped develop and facilitate the TRU AdventureU Outdoor Club, which enables students to demonstrate leadership through multi-activity adventures offered to the entire student body. In 2015, she received the Thompson Okanagan Tourism Association Tourism Excellence Scholarship. She is currently a manager and whitewater raft guide for an adventure tourism operator in the Kootenay region, and plans to pursue a Master of Tourism Management with hopes of becoming a leading entrepreneur in adventure tourism.
Simon Meijers
Law Society of British Columbia Gold Medal
Simon chose law because he wanted a career that would be interesting and continually present new challenges and opportunities. During his studies, he enjoyed the practical aspect of learning about the law, participating in the 2016 Wilson Moot and the 2017 MacIntyre Cup Moots. He was also an editor of the Canadian Journal of Comparative and Contemporary Law in 2016/17. His awards include the Shaver Scholarship, the TRU Law Second Year Scholarship and numerous course prizes. In September, he will begin clerking at the British Columbia Supreme Court in New Westminster, and following that, he will be articling with the Department of Justice in Vancouver.
Chantelle Burton
Governor General's Collegiate Bronze Medal
Chantelle is an animal rescuer from Victoria, BC, driven to make life better for all creatures. She chose TRU's Animal Health Technology program because of its excellent reputation, online program and graduate employment rate. Entering the program as a mature student working in a veterinary clinic, her passion for pets spurred her to her goal. Chantelle's accomplishments include the Bayer Parasite Solutions Award, the Wiley-Blackwell Laboratory Procedures Book Award and the VSPN Continued Learning Award. In the future, she plans on attending veterinary school or specializing in anaesthesia.