Posted on: February 6, 2017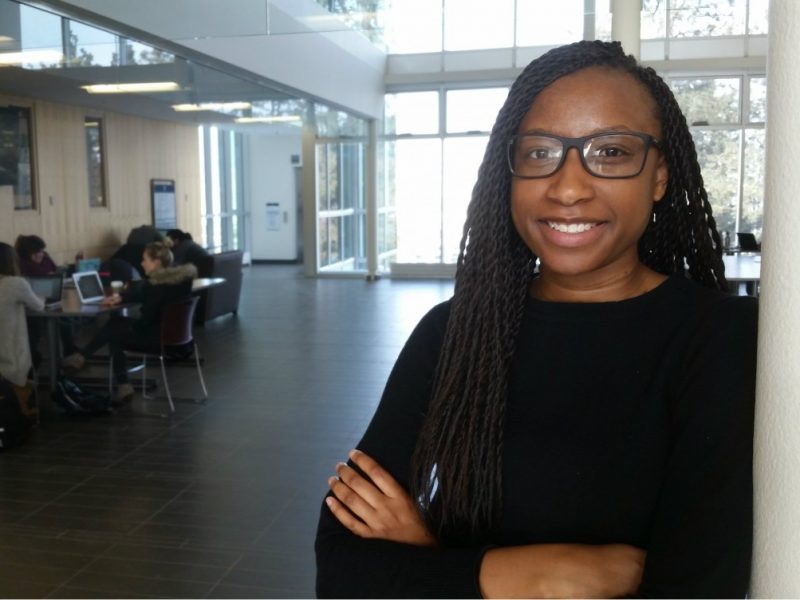 Cemeka Douglas is a champion of diversity and believes it is important for those in minority groups to share their experiences.
So, as president of the TRU chapter of the Black Law Students' Association of Canada, she worked with the BLSA club to reach out to black trailblazers to invite them to TRU Law to do just that.
Diversity in Practice, a panel of four accomplished black professionals (listed below) in the field of law, is a forum for guest speakers to discuss their experiences of advancing in the legal profession as people of colour.
The event is open to everyone and is happening in OM 3632 on Monday, February 6, from 6-8pm, with a reception to follow.
Guests include:
-Retired BC Supreme Court Judge, Justice Selwyn Romilly, who was the first black person appointed to BC's Supreme Court
-Kamloops lawyer and elected bencher Michelle Stanford, the first black female bencher in Kamloops
-Raphael Tachie, President of the BC Chapter of the Canadian Association of Black Lawyers and VP, Tax, Retirement and Estate planning at Manulife Financial
-Frank Walwyn, member of the judicial advisory committee for Ontario judges and Partner, WeirFoulds LLP, Toronto
"We wanted to invite individuals who could share their experiences and showcase the importance of diversity," said Douglas, a second-year student from Mississauga, Ontario.
"We're looking to them to share stories of success and overcoming challenges in their professional lives. Obviously as students, for us a key focus is future employment. I'm curious, as a minority, about what the pressures might be to adapt to the majority when seeking employment or being new in the profession," she said.
The event is a way for the club to mark Black History Month, and given the tumultuous affairs that have unfolded lately relating to the Black Lives Matter movement and US President Donald Trump's executive order to ban individuals from Muslim-majority countries, Douglas says a conversation on the treatment of minority groups is timely, although she stresses it's important to remain focussed on the Canadian context.
"We need dialogue on these topics. We need encouragement to move forward, especially in light of all the racial issues our society is facing. Ultimately we want to look at that through a Canadian lens," explained Douglas, who also enjoys exploring the academic side of race-related issues within the legal context.
"A project I worked on last semester was a paper addressing solutions to police brutality, in terms of the legal implications of wearing cameras and how privacy issues come into play."
The TRU BLSA club was founded in 2016 with the assistance of Assistant Professor Shanthi Senthe, the club's faculty advisor and mentor. The club is open to all students.