Posted on: February 3, 2017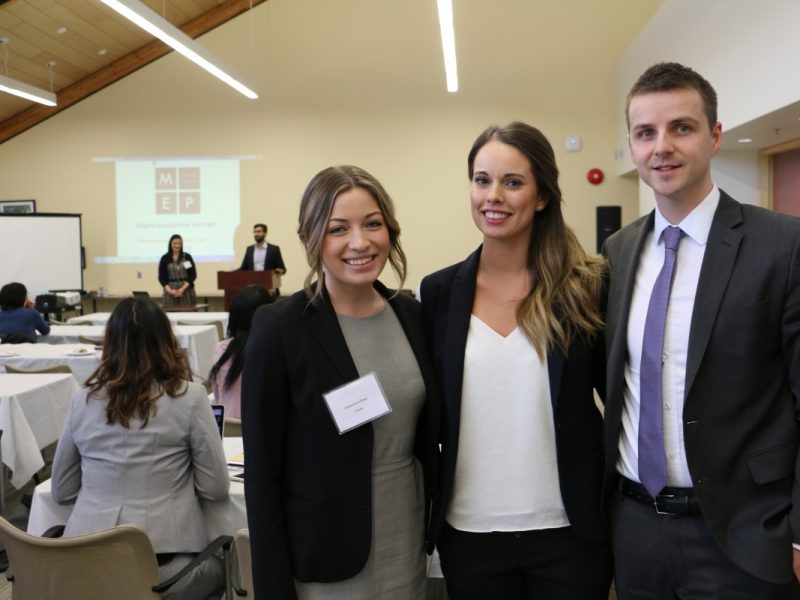 The organizers of this year's annual Society of Law Students conference say they are extremely happy with the event and that they achieved their goal of engaging people outside of the law student body.
"We wanted to involve more people outside of law circles, and involve the community," said conference co-chair Cassandra Enns, a second year student from Surrey.
The two-day conference In The Spotlight: Sports, Media and Entertainment Law featured an exciting lineup of executives and professionals in the sports, media and entertainment law fields, including Paul Haagenson, president of Live Nation Canada, Paul Melia, president and CEO of the Canadian Centre of Ethics in Sport and Peter Lawless, vice president of the Canadian Olympic Committee.
"Lots of non-law students turned out to hear the keynote speaker, and several practicing lawyers as well as a few individuals involved in the entertainment industry attended various sessions alongside our law students," she said, adding that bringing on sponsors who physically set up booths in the TRU Law foyer, added an additional community element this year.
Sam Varing, a second-year student from Abbotsford and conference media coordinator, notes in this article previewing the conference, that with the number of sports and entertainment law classes offered at TRU Law, it made sense to focus on these unqiue areas of law.
Adding a practical element to this year's conference was the addition of contract drafting workshops presented by Gowling WLG, a global firm whose Vancouver-based office has hired several TRU law grads.
Listen: The Jim Harrison Show Feb 2 – TRU Law Conference:

Read: Kamloops This Week article Feb 2 – Melia, president and CEO of Canadian Centre for Ethics in Sport, held court at TRU Law conference
Read: Kamloops This Week article Jan 30 – Sports, entertainment and media law part of TRU conference.