Posted on: January 9, 2017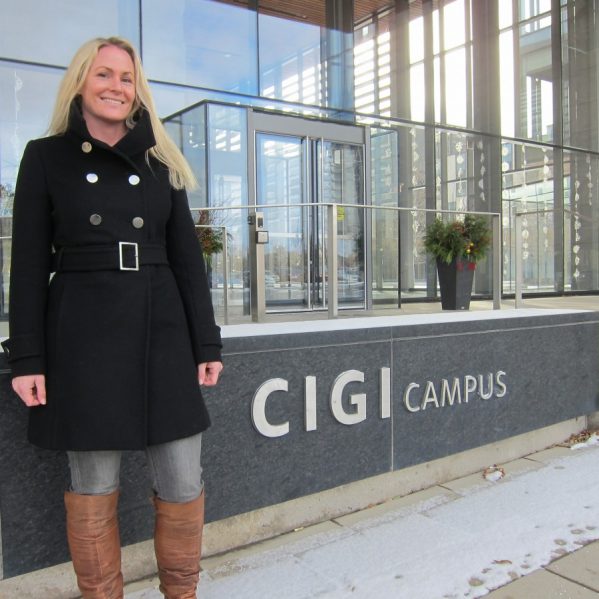 From her desk in Waterloo, TRU Law grad Kim Jensen is working on files with a reach far beyond the small Ontario city.
The 2016 alum is articling at the Centre for International Governance Innovation (CIGI), an independent, non-partisan think tank that conducts research to contribute to the global policy-making machine.
Jensen's work so far is supporting research into some significant international matters.
"Some current topics I am working on are jurisdiction for governance of the internet, and Brexit. The work on Brexit is in relation to the mission of CIGI's International Law Research Program (ILRP)," she explained.
"The ILRP focuses on international economic law, international environmental law and intellectual property law, and I do research for any or all of these branches of law as required to assist the research fellows and directors. CIGI is full of really engaged researchers working on innovative legal issues," she said.
Jensen splits her time between the ILRP and supporting in-house counsel, which includes matters such as employment contracts, regulatory compliance for the organization, drafting MOUs and intellectual property.
"One of the best things about working with in-house counsel is the variety of work, from privacy concerns for conference participants to trademark registrations for the organization. You can't predict what will keep daily life interesting around here!"
Jensen began her 10-month contract with CIGI last November. Katie Sykes, one of Jensen's former professors, says her ability to land the role speaks to both the TRU Law approach and the high-caliber students at the law school.
"CIGI is a very well-regarded international governance think tank. It's quite the achievement," said Sykes, who taught Jensen in International Trade Law.
"Kim is a hard worker, an original thinker and a versatile problem-solver—quintessential qualities of our law students," added Sykes.
Jensen agrees her TRU Law courses prepared her well for her current role.
"The research and course work I was encouraged to do in international law gave me important insight into the areas of law that CIGI focusses on."
"Classes in International Trade Law, Environmental Law, Comparative International Indigenous Rights and Human Rights provided important background information about the structure and operation of international law, as well as a space to think critically about issues and developing the law."
The New Zealand native, who spent time in the Rockies before moving to Kamloops to attend TRU Law, also attributes the attitudes and lifestyle found in Kamloops to her success as a student and as an alumna.
"TRU Law is really lucky to have a collegial atmosphere. The variety of clubs and nearby recreational activities such as mountain biking and skiing really made TRU an awesome place to live and learn. Faculty and students are all engaged in academic as well as extracurricular activities, resulting in a well-balanced lifestyle and learning environment," she explained.
Jensen hopes to work at a firm with an international law practice and ultimately pursue her master's degree.