Posted on: December 2, 2016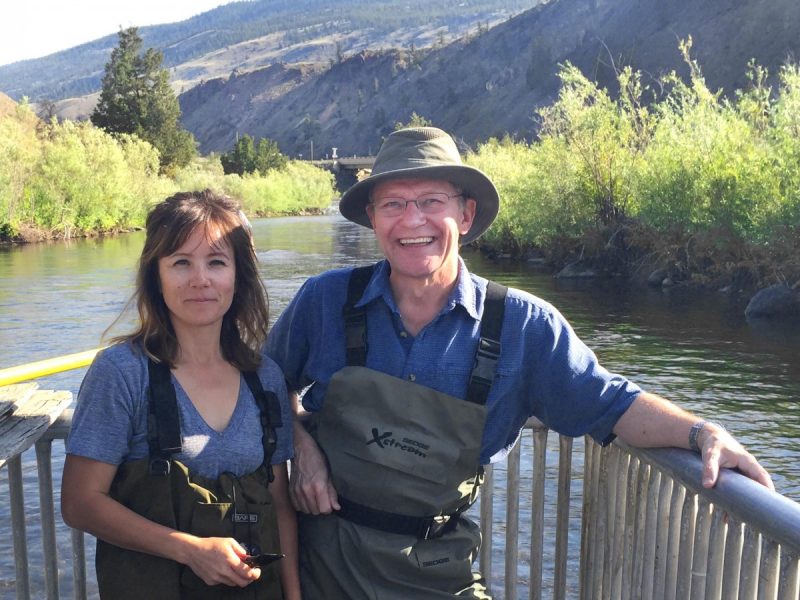 Keeping salmon populations healthy and abundant is a long-running passion for Michelle Walsh and in the face of declining numbers in recent years, it's no wonder she made it the focus of her master's research.
The interest started in childhood during fishing trips with her late grandparents—Ida and Frank George—and gained momentum as a teenager while volunteering with conservation projects. Today she is a fisheries biologist with the Shuswap Nation Tribal Council's Secwepemc Fisheries Commission.
"It's sad if fish populations are lost because it's almost impossible to get them back, so you have to try and do what you can while the fish are still there," said Walsh, who is about halfway into the two-year Master of Science in Environmental Science study and expects to defend her thesis in 2018. "You have to keep doing what you can to rebuild them."
In a multi-faceted project supervised by Natural Resource Science faculty member Brian Heise, Walsh is measuring a 38-kilometre stretch of the Deadman River near Kamloops to determine whether warm water conditions combined with the physical features of the river—like shallow and deep portions, areas of groundwater upwelling and impediments—affect Chinook salmon as they swim upstream to spawn and if they do, how so. To learn what areas of the river are more appealing to the Chinook than others, Walsh and others attached small radio frequency monitors to the dorsal fin of about 50 fish.
"I'm hopeful the information can be used to rebuild the population to a sustainable level that can withstand harvest among many users while still meeting conservation requirements," said Walsh. "The information could serve as a template to help managers develop restoration strategies for Chinook, steelhead, Interior Fraser River coho, pink salmon and other species."
The field work spanned June through September and next summer will involve more of the same. Walsh is hoping for a more typical Kamloops summer of warmer, drier months to balance this year's uncharacteristically cooler and wetter season.
The Deadman River is located about a 25-minute drive west of Kamloops, just outside of Savona. The study area starts at Mowich Lake and runs downstream to the river mouth, which empties into the Lower Thompson River. Much of the Deadman is located on the reserve land of the Skeetchestn Indian Band and as a result, Walsh has been working closely with the Skeetchestn Natural Resources Corporation, community groups both near and far, and citizens.
It's been a highly collaborative project and the approach recently caught the attention of the Fraser Basin Council, which named Walsh one of three recipients of a 2016 Elizabeth Henry Scholarship Fund for Communities and Environmental Health award. Humbled by the recognition, Walsh is quick to say everything has been a group effort.
"It's recognition for myself, but also for the volunteers and the different groups that have donated money to the project and the others who keep it going," said Walsh. "It's a nice pat on the back that gives us some fuel in the tank to keep going, even with the long hours and physically demanding times out in the field."
Heise said the research will assist with two important issues in fish management—reducing mortality and saving money.
"First, it will determine if Chinook salmon are selecting groundwater upwelling zones for spawning, which would help them survive the effects of climate change," said Heise. "Secondly, areas of groundwater upwelling identified by the salmon and remote sensing will help determine the optimal locations for streambank restoration efforts, thus making valuable restoration dollars go further."