Posted on: October 25, 2016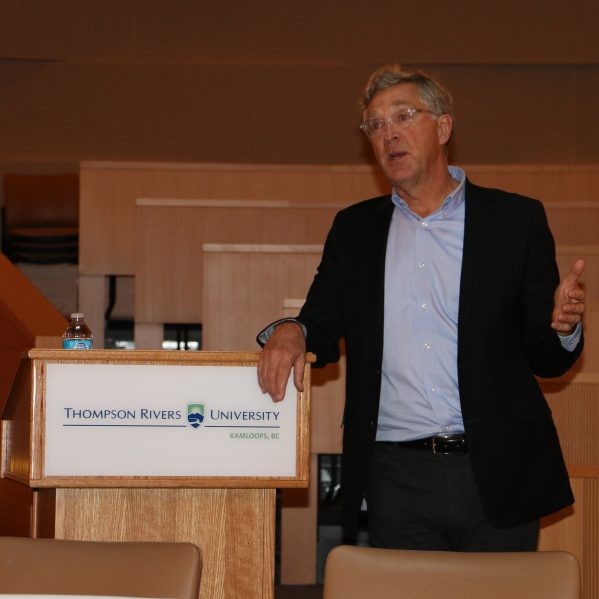 "It's as much about trying to figure out what the unintended consequences are as whether the legislation will do what it's supposed to do."
That was one of the key points made by Geoff Plant, QC, former Attorney General of British Columbia, during a guest lecture today to first-year TRU Law students in their Legislation, Administration and Policy class.
Drawing on his past experiences in the legislature and as chief lawyer to government, Plant spoke animatedly on lawmaking, describing the intersection of politics and law in the context of policy-making.
Weaving insight and wisdom together with humour, Plant talked about his time as an MLA, a justice critic, as the Attorney General, as a cabinet minister and as a lawyer, citizen, husband and father, engaging the 100-ish students in the room with both relevant examples and personal anecdotes.
"Ultimately, you get to understand how policy, as words on paper, come to life," he explained, adding however, that the task involves thinking about what else there is to consider.
"This is the phenomenon of unintended consequences," he said, citing his personal experience as the cabinet minister who in 2001, introduced legislation for fixed election dates in BC, which he says provided the benefits of a routine, yet also resulted in a predictable political cycle that came with less actual time to change or impact policy.
Assistant Professor Lorne Neudorf, one of the co-instructors of the course, says Plant's background and experience speak directly to his course outcomes.
"In his talk, Geoff reiterated the importance of legislation as a major source of law and the attention to detail that is required in drafting statutory provisions," said Neudorf.
The other co-instructor, new TRU Law faculty member Assistant Professor Ryan Gauthier, has worked on-and-off with Plant for the last decade, and knew he had to find a way to get him on board to visit the LAP class after he found out he was teaching the course.
"It's a real treat to have someone like Geoff speak to the students, not only for his experience, but also for his humility, humour, and overall example of how to be a great lawyer," said Gauthier.
As for Plant's parting words to the students before he departed for his late-morning flight, he conveyed an attitude that was no doubt an integral ingredient in his accomplished career.
"Always try to add value to what you do. Take what you learn from what you do, and apply it to the next thing you do."