Posted on: March 14, 2016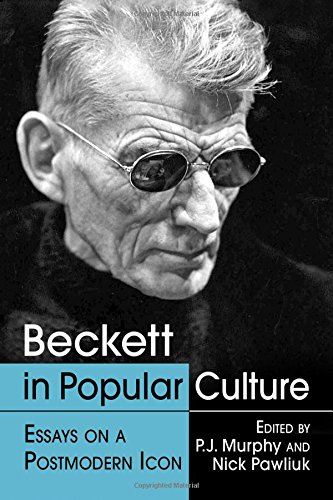 In 2009, Peter Murphy wrote Beckett's Dedalus: Dialogical Engagements with Joyce in Beckett's Fiction; his newest book, co-edited by Nick Pawliuk, works off the same concept, albeit filtered through a different lens. The result, Beckett in Popular Culture: Essays on a Postmodern Icon, solidifies Murphy's status as an eminent Beckett scholar.
The book is a true Thompson Rivers University publication, as it features essays by several TRU faculty members including Jennifer Murphy and Tanya Pawliuk, both lecturers in the School of Social Work, as well as Mark Wallin, Associate Professor in the Faculty of Arts, and Open Learning scholar Cameron Reid.
Book Launch: Beckett in Popular Culture: Essays on a Postmodern Icon
Date: 15 March 2016
Time: 1:15 p.m. to 1:45 p.m.
Where: Old Main, 1522
The goal of the publication is to shine a light on how pervasive Beckett's influence has become within popular culture, cropping up in references made on television and and in popular fiction, and being used in innumerable marketing campaigns. Nick Pawliuk hopes to continue the discussion of Beckett's influence with a forthcoming website devoted to cataloguing pop culture references to the famous Irish novelist, playwright and poet.
"There are people who haven't read his work or seen his plays, and yet they're quoting him," said Pawliuk, who added that it is important to provide a venue that gives credit to Beckett's influence. The collection of essays asks the question: Why is our culture so obsessed with an obscure Irish writer most people have not read?
The book is the first full length study of Beckett in popular culture, and it is hoped that it will give rise to the development of a course focused on Beckett's influence, as well as a future conference on the topic.
"This book will challenge a lot of the stereotypes, offer a new perspective and give a new critical look at Beckett's work," explained Murphy.
More information
Peter Murphy
pmurphy@tru.ca
250-828-5260
Nick Pawliuk
npawliuk@tru.ca
250-371-5567