Posted on: March 11, 2016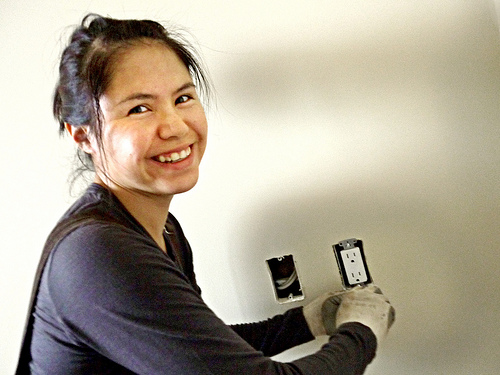 The Women in Trades Training (WIIT) program at TRU is one of four BC institutions to benefit from the $1.8 million in funding announced today by the provincial government as part of a initiative to help support women to get the skills and training they need to start a career in the trades.
Through the Industry Training Authority (ITA), TRU and three other institutions across BC deliver WITT programs specifically designed to help women kick start their trades career. These programs provide women with introductory trades training, technical training, an overview of various trade occupations, as well as job placement support.
While there are more and more women pursuing trades careers in BC, the percentage of male journeymen is still significantly higher than females. With the addition of nearly one million job openings expected in the province by 2024, women will play an increasingly important role in keeping BC's economy diverse, strong and growing. 
"There has never been a better time for women to consider a career in the trades. We are facing incredible economic opportunities and preparing for unprecedented demand for skilled labour over the next decade," said Minister of Jobs, Tourism and Skills Training Shirley Bond. "Programs like the Women in Trades Training Program provide women with the support and resources they need to be successful if they choose to pursue a career in the trades."
The TRU School of Trades and Technology is currently accepting applications for WITT and the Women Exploring Trades program.
Across BC, WITT has served more than 3,000 women since 2008, and the current programs will benefit up to 234 female participants when all training concludes in September, 2016.
The Women in Trades Training Initiative is funded through the Canada–British Columbia Job Fund Agreement under the Employment Services and Supports (ESS) stream, providing a total of $65 million per year to deliver targeted training programs in BC. The ESS stream is designed to assist British Columbians who are facing barriers in the labour market to develop essential job readiness skills.
For more information on Women in Trades Training at TRU, contact:
Heather Hamilton
Manager of Industry and Contract Training
250-371-5658
hhamilton@tru.ca