Posted on: September 21, 2015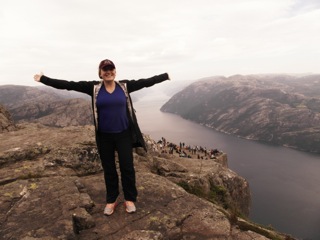 Paige Bewley is enriching her Bachelor of Science in Nursing studies this fall with an exchange at the University of Stavanger in Norway. Now, thanks to the Irving K. Barber BC Scholarship Society, she can immerse herself in her study abroad experience without a financial burden.
Bewley, from Vernon, is one of 16 BC post-secondary students to receive the society's 2015 Premier's International Scholarships for Study Abroad. The scholarships provide between $6,000 and $10,000 to students enrolled in overseas programs in a variety of subjects.
"I am so fortunate to have received the Irving K. Barber Premier's International Scholarship this year," said Bewley via email from Norway. "With this scholarship I am rewarded with so much more freedom to enjoy this beautiful land Norway has to offer."
"The society is pleased to award scholarships to these 16 students who will broaden their education and personal experiences through a period of study in a different country," said society chair Hugh Gordon in the Sept. 17 release. "Their interest indicates that this generation of young British Columbians see themselves as global citizens with an obligation to know and understand the world beyond our borders."
Premier's Scholarships are funded from the returns on a $17 million endowment fund established by the Province of BC for international education. Through a variety of scholarship and award programs the society has awarded more than $9 million to over 4,000 BC public post-secondary students since its inception in 2004, including over $2.5 million in international scholarships since 2008.