Posted on: August 26, 2014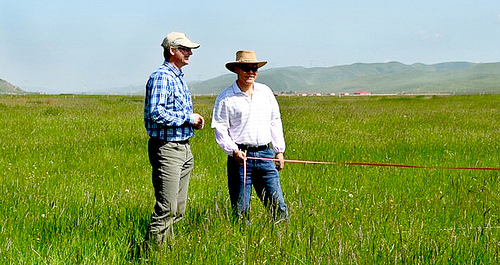 The following article on land reclamation research being conducted by Lauchlan Fraser appeared in the Aug. 21 edition of Kamloops This Week newspaper.
---
Lauchlan Fraser: 'An all-star at TRU too good to lose'
By Dale Bass
Lauchlan Fraser is one of those scientists who can take a small patch of land, study it and learn something about climate change.
And, if Thompson Rivers University has its way, he'll be doing it from Kamloops well into the future.
Fraser's work, all designed around creating a healthier environment, is so key to TRU — and, by extension, to local businesses and the region — that creating a school of reclamation science is a priority for the institution, said TRU vice-president advancement Christopher Seguin.
It's a viewpoint echoed by the dean of science.
Tom Dickinson said there's a plan in place to either start a separate school or centre, or see a Canada Research Council chair position created, much like the one Fraser just completed, focusing on ecosystems.
Dickinson said Fraser "is too good to lose."