Posted on: February 12, 2014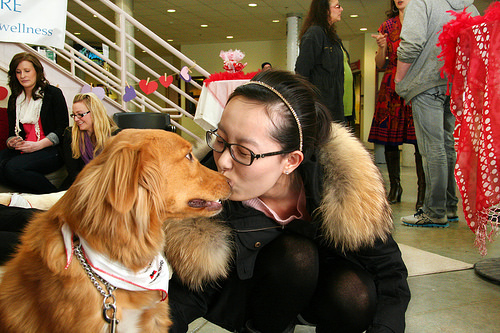 There's a few reasons to be smiling these days about TRU's St. John Ambulance Therapy Dog Program.
1) On Feb. 13 it celebrates one year of operation
2) In December, St. John Ambulance bestowed "Official Designated Facility" status to TRU
3) The TRU program is being talked about nationally as an example of how the agency can grow and expand the Therapy Dog Program.
What the designation means
Chelsea Corsi, coordinator of TRU's Wellness Centre and among those responsible for getting the program up-and-running at the university, explains the value of the designation.
"Before this status, volunteers would come if they could make it. Now that we are an official designated facility, TRU will always have St. John Ambulance volunteers able to come to campus. This is great news," Corsi said.
Dogs on campus each Thursday
The program is called Therapy Thursdays: For the Love of Dogs and runs Thursdays from 10am to 2pm in Old Main in the area by the stairs to the second floor. It runs in the fall and winter semester.
Therapy dogs are specially trained to be gentle and calm around strangers, and are typically used in hospitals, retirement homes, nursing homes, and hospices. It is only in recent years that they have been introduced at some post-secondary colleges and universities.
The dogs were introduced at TRU on Feb. 14, 2013 as a way for students to ease some of the stress around exams. The plan was to run the program for a few weeks, but it proved an instant hit and people requested the initiative continue.