Posted on: March 19, 2013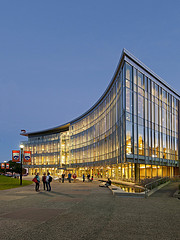 Thompson Rivers University (TRU) is applying for institutional accreditation from the Washington-based Northwest Commission on Colleges and Universities (NWCCU).
Institutional accreditation provides a framework for ongoing evaluation and self-analysis that ensures that the policies, procedures and practices of an institution are consistent with its claims and with accepted standards of quality. It serves as an important means of assuring the quality of higher education through rigorous peer-review and evaluation.
"Accreditation will enhance the value of a TRU degree for all students and will provide a distinct advantage for attracting new students both within and outside Canada," explains Dr. Ulrich Scheck, Provost and Vice-President Academic.
Although TRU's academic courses and programs are regularly assessed through the Academic Program Review, accreditation will ensure quality assurance at an institutional level. "Pursuing institutional accreditation will provide TRU with the potential to expand and include the academic planning framework in the University's overall mission, values and strategic goals," says Scheck.
After a thorough investigation, TRU has chosen to pursue accreditation with the NWCCU, an independent, non-profit organization dedicated to educational excellence and improvement through peer evaluation and accreditation. It is one of six regional organizations recognized by the United States Department of Education to provide quality assurance and evaluate institutional effectiveness. The majority of American universities are accredited through one of the six regional organizations. TRU will be the fifth Canadian University to seek institutional accreditation in the United States.
The full accreditation process, which is based on a series of institutional self-assessments and NWCCU member peer reviews, will take between six to eight years to complete. After submitting the Application for Consideration, TRU's first step will be to conduct a detailed self-study examining how its policies, procedures and practices relate to the five standards prescribed by the NWCCU.
"This process will help establish clearer benchmarks for assessing institutional outcomes and, as a result, will benefit students' learning experiences" explains Dr. Scheck.
The Office of the Provost and Vice-President Academic will be keeping the TRU community informed and updated through TRU's accreditation webpage.
For additional information, please contact:
Yael La Rose
Accreditation Liaison Officer
Office of the Provost and Vice-President Academic
250-852-7156 – ylarose@tru.ca