Posted on: January 25, 2013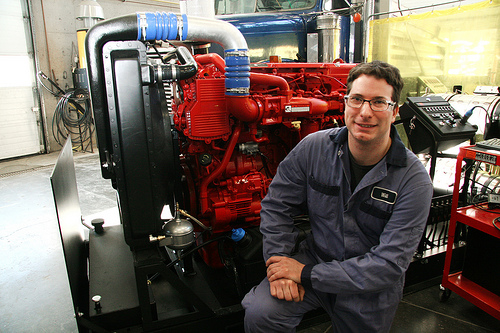 The government of B.C. is investing $1.39 million in new skills-training equipment at Thompson Rivers University.
The funding is part of a $17-million provincewide Skills and Training Plan investment to support public post-secondary institutions to upgrade equipment and put the latest tools in the hands of B.C. students.
Equipment purchases and replacements at each institution are based upon a review and analysis of existing inventory, current and future program and industry requirements, and current government priorities to provide skills training that is aligned to the needs of the economy in each region.
> Learn more about Trades programs at TRU
"The ministry's commitment towards the purchase of much-needed equipment for our skilled trades programs is very much appreciated," said Alan Shaver, TRU President and Vice-Chancellor. "Our programs have a long history of preparing youth and adult learners for career success in British Columbia. This investment will help ensure our instructors and students have up-to-date learning tools so we can continue to meet the demands of industry with excellent graduates."
Terry Lake, MLA for Kamloops-North Thompson was on campus to make the announcement, he said, "With growing trades opportunities, it's important to prepare our students with the best education possible – and that includes placing them with the proper tools for a proper education."
Institutions will also pursue partnerships with local industries and other stakeholders to purchase or donate equipment, ensuring students continue to train on the latest equipment being used in the workplace.
According to John Yap, the Minister of Advanced Education, Innovation and Technology the funding announcement is part of the BC Jobs Plan and the Skills and Training Plan. "We're taking action to provide education and training opportunities aligned with the needs of our economy. This provincial investment, coupled with contributions from private industry partners, will ensure students are training on the same calibre of equipment their employers will be asking them to work on after graduation."
The type of equipment slated for new purchase or replacement at Thompson Rivers University – unless otherwise donated from industry partners – includes equipment such as a skidder, an excavator, a metal shear, a steam boiler, and a backhoe.
"This large investment signifies the importance of trades in our community. Giving our students the opportunity to learn with the latest tools ensures their ability to succeed in the work force." said Kevin Krueger, MLA for Kamloops-South Thompson
MORE INFORMATION
Christopher Seguin, VP Advancement
(p) 250-574-0474
or
Lindsay Langill, Dean Trades and Technology
(p) 250-828-5110