Posted on: June 17, 2010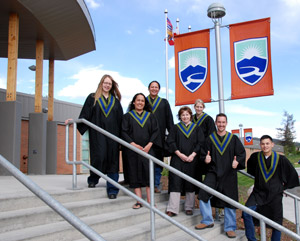 Thompson Rivers University will roll out a new academic model for the Williams Lake campus intended to boost enrolment and student success.
Provost and Vice-President of Academic, Dr. Ulrich Scheck, has put administrative and marketing support toward a cohort model to guarantee courses in the campus's first and second-year university offerings in arts, first-year sciences and university preparation.
"TRU is committed to creating a vibrant and sustainable campus in Williams Lake," said Scheck. " The new roster of vocational, skills-based and academic courses combined with a cohort model will greatly benefit our students and the Williams Lake community."
TRU is launching a three-year cohort program in Williams Lake starting in September. More details .
A town hall session organized by TRU was held in February and received extensive input from students, faculty, staff, parents of prospective students and key stakeholders. According to Grace Simpson, Acting Director of TRU Williams Lake and member of the inter-campus committee addressing the suggestions presented at this session, the cohort model evolved from comments received from the various participants.
The academic courses that will be offered are guaranteed to run, Simpson said, noting that one of the past challenges for academic courses has been under-subscribed classes that had to be cancelled.
"With the new cohort model students will build camaraderie as they go through the courses together," said Simpson. "Students can study together, develop common interests, and increase their overall success." The cohort model is common in the nursing, education and journalism programs at TRU's Kamloops campus and will be the model adopted for the new law program starting in 2011.
While overall student numbers have remained steady in Williams Lake, the new model promises to increase the community's confidence in consistent course delivery at Williams Lake.