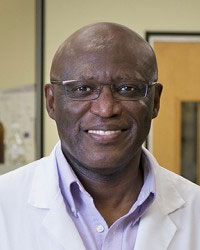 Dr. Kingsley Donkor
Professor
Faculty of Science
Department of Physical Sciences
Expertise
My research focuses on developing rapid and sensitive analytical methods in capillary electrophoresis, chromatography, and mass spectrometry for the characterization of antimicrobial peptides, food, agricultural, and environmental samples as well as application of chemometric approaches to evaluating chemical data.
Fields
Chemistry Environment Food Science

Other areas of expertise: Chemometrics.
Languages
English
Not sure who to contact?
Our Marketing and Communications office can point you in the right direction. Email or call Michele at 250-828-5361