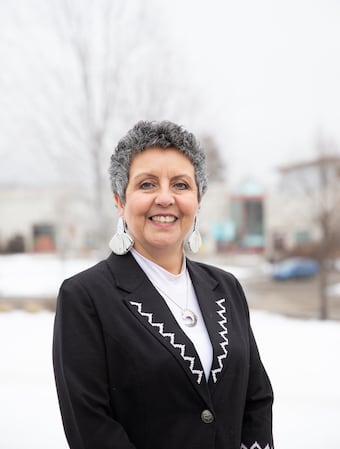 Dr. R. Lisa Bourque Bearskin
Associate Professor
School of Nursing
Department: Health Science
Expertise
Dr. Bourque-Bearskin a Cree/Métis Nurse from Beaver Lake Cree Nation, and Associate Professor at Thompson River University, School of Nursing, has devoted her life and career to improving Indigenous health. Over the last 30 years she has worked tirelessly in clinical practice, nursing education, nursing leadership to advance Indigenous-nursing knowledge within many diverse First Nations, Inuit and Metis communities. Dr. Bourque-Bearskin¹s leadership in bringing together networks of community researchers is remarkable. She currently holds a number of grants funded by the Canadian Institute health Research ­ Institute for Indigenous Peoples, the Michael Smith Foundation for Health Research and Thompson Rivers University where she initiates community-led research by Indigenous communities. She mentors students and faculty to advance Indigenous nursing research to promote reconciliation and decolonization. She conducts collaborative research>with communities, students, and faculty to identify opportunities for meaningful health research that is driven by community-generated priorities. She leads political and social innovation through informal and formal nursing organizations to advance positive change in nursing using Indigenous pedagogies, ethics, and research to enhance understandings of Indigenous nursing knowledge, Indigenous social determinants of health and Indigenous wellness that maintains cultural integrity of nurses practice and supports Indigenous sovereignty.
Fields
Aboriginal Issues Aging and Health Health Care Human Rights Indigenous Politics Indigenous Education Nursing Public Health Race Rural Health
Languages
English
Quoted Articles
http://www.ncsa.ca/programs/education/canadian-nelson-mandela-dialogues
https://journals.uvic.ca/index.php/ijih/article/view/15024
https://cna-aiic.ca/en/about-us/awards-and-recognition/150-nurses-for-canada/british-columbia/lisa-bourque-bearskin

Not sure who to contact?
Our Marketing and Communications office can point you in the right direction. Email or call Michele at 250-828-5361