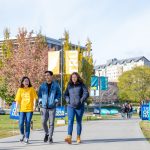 Are you a current grade 10 or 11 high school student?
Do you want to experience university life and earn post-secondary credits while attending high school?
Do you want to do all this at little to no personal cost?
You can with TRU Start!
If you are a current grade 10 or 11 student you are invited to attend our TRU Start Virtual Information Session and find out how you can access these opportunities. The information session will be facilitated by SD73 District Vice Principal of Trades and Transitions as well as representatives from TRU.
Parents and/or guardians are encouraged to attend this information session with their children.
Register here, on the TRU Start website or contact TRU's Future Students Team at futurestudents@tru.ca for details!