Posted on: September 22, 2017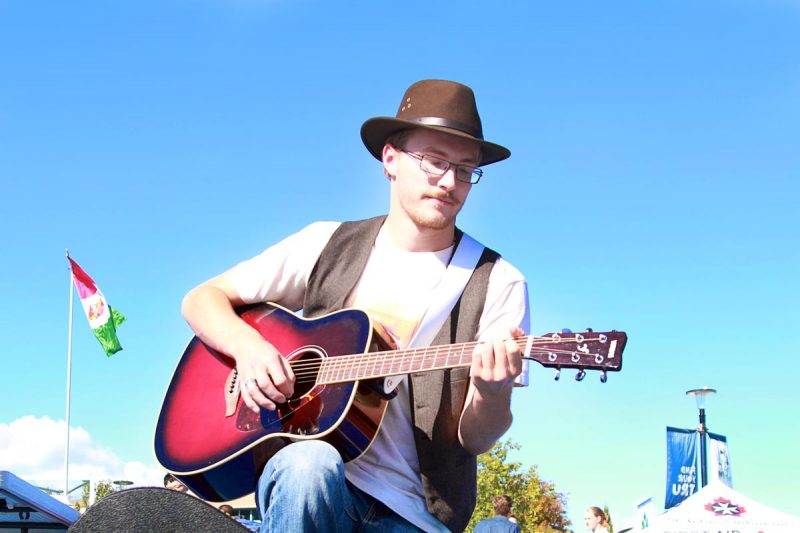 Campus clubs are a great way to connect with others while sharing your interests and acquiring valuable soft skills along the way.
Soft skills? How so?
During brainstorming meetings, you're tapping into your communication and negotiation skills. Help organize an event, sign up for a committee, or be part of the executive and your skills in the areas of time management, leadership, patience and listening are put to the test.
On Sept. 14, more than 1,000 students took the first steps towards connecting and skill building during TRU Students' Union (TRUSU) clubs day. More than 40 TRU clubs—and some community ones—assembled in Campus Court and visitors picked up brochures, signed email lists, asked questions and left with free give-aways. TRUSU's clubs directory lists more than 90 clubs, with some of the newer ones still to be added.
To learn for ourselves what impacts clubs can have, the Newsroom asked some club members how their involvement has made their lives better.
Pre-Law Society TRU
Founder and president Kennedy Aberdeen said the doors are open to everyone, whether pursing entrance into law school or not.
At the very least, she said, members will develop skills associated with networking and public speaking.
"A lot of people will go through their entire university career without developing soft skills like public speaking and communicating. Any workplace you're in, you will need to be able to talk to people, and that's something we can all work on," said Aberdeen, who is in her third year and majoring in business accounting while minoring in theatre.
TRU Marketing Association
"You're getting out of the box and getting to develop not just what you're good at, but developing a skill-set in a range of areas," said Allister Grapes, fourth year Psychology honours.
Learning how to market himself has been another highlight and to the question of why marketing yourself is important, he replied, "Why is getting a job important?"
Beth Engel is in her fourth year of business and is majoring in marketing and minoring in economics. She's thrilled to be more comfortable and confident around others.
"You meet people you wouldn't normally cross paths with and you're learning from people with different points of view. It's like having a new family and you're getting to work on cool stuff together," she said. "I can still be shy at times, but I'm more comfortable talking to anyone, even in front of a class."
TRUSU Car Enthusiasts Club
Just a few weeks old, the club has the name car in it, but president Logan Cramwell said all manners of vehicle enthusiasts are welcome. That could be motorcycles, boats, lawnmowers, skateboards or even "shoelace express" as one person wrote on the signup sheet.
"The club is more of a segue to meeting people with similar interests, but from different backgrounds," said Cramwell, who is in his third year of a double major in math and computing science.
Among the ideas he has for the club, are offering free do-it-yourself workshops on topics like oil changes and hand washing and waxing.
"It was a club that I considered missing on campus, so I did something about it. I'm told organizing a club and putting on events looks good on a resume. Organizing a club says something about your leadership skills and people skills," he said.
Biology Undergraduate Society (BUGS)
BUGS president Jesse Biddlecombe has gained a stronger rapport with faculty, which is never a bad thing.
"Those relationships can be valuable because they can help with getting research opportunities and making it easier to ask for help outside of a classroom environment," said Biddlecombe, who is in the third year of a bachelor of science with concentrations in cellular, molecular and microbial biology.
CFBX campus and community radio station
Hosting a radio show is more than sitting back, playing tunes and chit-chatting with a faceless audience, said station manager Brant Zwicker. So many skills are happening all at once that it may seem like not much is happening at all.
Zwicker said most on-air hosts will learn:
Time management: Putting together the pieces for a one- or two-hour show.
Writing: Most on-air volunteers hone their writing, whether it's scripting a show in full or in part, writing pitch letters to musicians for interviews, or promoting their shows through blogs and social media channels.
Lateral thinking: Seeing how things are connected or can be connected is not something that comes easy for most. The better hosts do it with ease.
Public speaking: Talking on-air promotes speaking clearly, confidently, knowledgeably and often off the top of your head.
"It's not just a radio show because there's all that other stuff going on," said Zwicker.
Thompson Valley Airsoft Enthusiasts' Association
Similar to paintball, airsoft is a team game and participants use replica weapons. Aside from teaching teamwork, players learn the importance of safety at all times, an appreciation for the wilderness, accurately judging distances and reducing messages into their simplest words and actions.
"I've learned the value of communicating concisely with other people because the information has to be relayed quickly during a game," said, third-year computing science student Logan Royer, adding "that kind of skill would be good in business writing."
Photography Club
Lokesh Sharma's interest in photography runs so deep, that he didn't let his recent arrival from India stop him from co-founding the club earlier this month.
Enrolled in the post baccalaureate event tourism program, Sharma is keeping the club's structure and format fairly loose for the time being.
"We will have Saturday photo walks," he said, adding, "the club is about educating people how to use their cameras in manual setting," along with working through the challenges that are part of photographing in that mode.
TRUSU Musicians Club
Looking to get more out of his guitar playing and wanting others to play with, Owen Powers started the club last year.
From a musical standpoint, his expectations have been met. His rhythm playing has improved, so has his timing and technique.
Then there's the other skills he had no idea would come his way. He now knows how to start a club, promote it in person and by other means, has developed different teaching styles, is patient and open to trying different music styles, has developed different negotiation styles and appreciates the value of being prepared for the weekly drop-ins that are most Mondays, from 6–9 p.m., in the Barber Centre in the House of Learning (room HOL 190).
"I've learned how to manage a club, about being organized, about being in a leadership position," said the second-year natural resource science student.