Posted on: April 11, 2014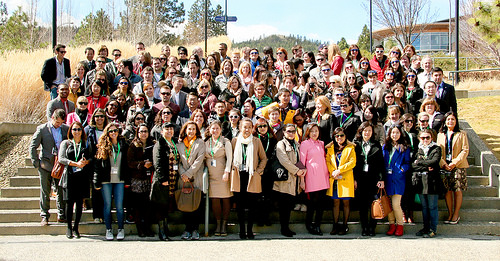 Close to 90 international agents were here this week to experience the Kamloops campus, learn more about it, meet staff, and tour the city.
Agents play an important role with TRU as they are the bridges linking students and TRU. The role of agents is to recommend to students which colleges and universities suit their needs.
Through the years, TRU World has worked hard to maintain and strengthen agent relationships, and the investment has paid off because there is now more than 2,500 international students at TRU and 85 countries represented.
To learn more about the special guests,
The Newsroom caught up with TRU's Director of International Marketing, Mike Henniger.
Newsroom — What is the importance of this event?
MH — The annual TRU Familiarization Tour is the most important marketing event of the year for international. Having these guests experience the TRU campus and hospitality first hand is key to giving them the confidence to recommend our university to their students. Many of them are coming to Canada for the first time so it is an excellent opportunity for us to make a great first impression.
Newsroom – Is this the largest group?
MH — Yes, this is the largest international group TRU has hosted, with more than 80 people attending.
Newsroom – What countries are represented?
MH — Twenty-four countries are represented, with a particularly large contingent from Vietnam and Russia.
Newsroom – What did they see at TRU?
MH — The purpose of this trip is most importantly to meet the people here. They will get to meet the international staff as well as many of the deans and even the president.
Newsroom – What of Kamloops will they see?
MH — Unfortunately this is a short visit so they will only have time to do a city tour.