Posted on: August 15, 2013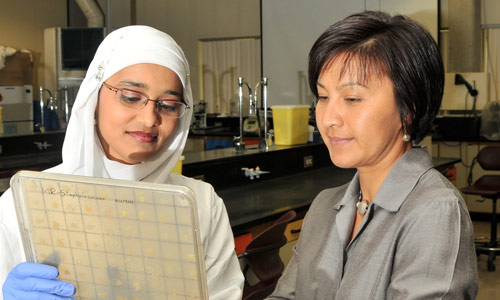 When people hear the word bacteria, many of us think of germs. Bacteria and other microorganisms have gained notoriety in the media—who hasn't heard of E. coli, staph infections, or the bubonic plague? And they're everywhere, living invisibly in air, water, soil… and us. But did you know that less than 1% of them actually make us sick? An average healthy adult carries around three pounds of microorganisms, many of them essential to our health. Microorganisms are also the source of almost all today's antibiotics.
Disease-causing (pathogenic) microorganisms that have developed resistance to multiple antibiotics are the most infamous in today's media. To combat these "superbugs", which may soon be immune to even the strongest of the current drugs, researchers are seeking new microorganisms that may have antibiotic (or antimicrobial) superpowers.
Able to survive in severe heat, cold, altitude, even radioactivity, bacteria have adapted to inhospitable places where they remain largely unknown. TRU microbiologist Dr. Naowarat (Ann) Cheeptham has focused her search for bacterial superheroes on an extreme habitat few humans venture into: caves. Working with expert cave explorer Nicholaus Vieira to obtain samples from some of the most remote, pristine cave environments in Canada, Cheeptham and her team of graduate and undergraduate researchers are isolating hundreds of unidentified microorganisms to screen for potential as antibiotics.
"There is an urgent need to discover and develop new and more effective antibiotics," says Cheeptham, an associate professor in the department of Biological Sciences. "Our research is very important as a starting point for new drug discovery."
From samples Vieira collected from a newly discovered cave, for example, Cheeptham's students have so far isolated 266 unidentified bacteria, of which they have tested 80 to date against several pathogens. Of those, eight have shown potential: when introduced to bacteria like MDSA, a multi-drug-resistant strain of Staphylococcus aureus, the cave bacteria produced bioactive compounds that kill the pathogens. Whether they will prove to be microscopic superheroes or not will require further testing and development, to find out if their compounds are powerful enough to make future antibiotics.
With the promising results comes great excitement for Cheeptham in sharing research experiences with students in her lab as well as in her classes. "My experience in research outside the classroom enhances my teaching in classes," she says, "as I can refer to real-world problems, demonstrate how to go about solving them, and share with the students what we found."
For students like Raniyah Alnahdi, being part of a project to treat infectious disease and save lives is a life-changing experience. "Ann has given me responsibility for whatever I am working with in the lab, and encourages me to participate in poster presentations and conferences," says Alnahdi, a Master of Science in Environmental Science student from Saudi Arabia. "This summer, she gave me the chance to teach, train and help her students for the cave bacteria project."
Cheeptham's undergraduate researchers on this and other antibiotic-related projects have also had opportunities to share their knowledge, from participation in international conferences to being lead author on papers for publication. She learns from them in turn.
"What I get back from students is tremendous," says Cheeptham. "I'm fortunate to supervise groups of graduate and undergraduate students in my research, who not only bring curiosity and a scientific mindset, but also cultural diversity."
When you're seeking microscopic superheroes in the strangest of places, diverse perspectives and a healthy dose of curiosity are just what the doctor ordered.