Posted on: January 7, 2013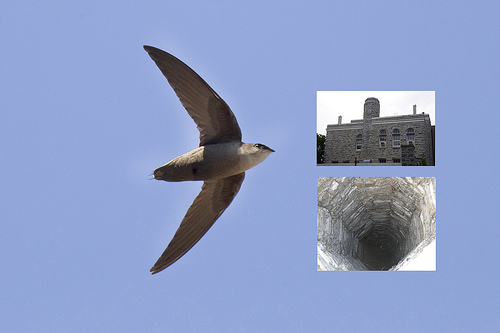 ………………………………………………………………………………………………………………….
UPDATE: Jan. 7, 2013 |
ScienceNow recently named this research among its 10 favourite stories from 2012.
READ MORE
………………………………………………………………………………………………………………….
A study released in April 2012 suggested DDT may have played a role in the declining populations of insect-eating birds, winds up having a TRU connection.
Dr. Matthew Reudink, an Assistant Professor in the department of biological sciences, is one of 10 authors of the report titled '50 years of bird poop links DDT with changing bird menus.'
The study reveals that when DDT was used as a pesticide before being banned in many countries by the early 1970s, the beetle population dropped significantly and with that, also a nutritious and important food source for insect-eating birds such as the chimney swift.
How did the researchers discover this? By analyzing a two-metre-high pile of droppings left behind by chimney swifts in a large chimney on the campus of Queen's University in Kingston. The pile of poop amounted to about 50 years worth of droppings and proved to to be a time capsule for the researchers. Taking core samples, researchers had themselves snapshots of the eating patterns for half a century.
"The discovery that decreased consumption of beetles was linked to both DDT application and swift population declines provides a potential explanation not just for swift declines, but for declines in many aerial insectivores," said Reudink, who started collaborating on the project while doing his post-doctorate at Trent University and the Ontario Ministry of Natural Resources with the study's lead author, Dr. Joe Nocera.
____________________________
Photos from the project
Learn more about the project
____________________________
Reudink assisted with the stable isotope analysis and in doing so, analyzed the undigested insect bits from the chimney swift pile for stable isotopes of carbon and nitrogen.
"These historic archives from the guano piles provide a unique glimpse into the past, from which we've just scratched the surface," said Reudink, adding that a similar study is being done on Vancouver Island by TRU undergraduate honours student James Pomfret. That study is looking at Vaux's swift, which is closely related to the chimney swift, and will help determine how widespread the effects of DDT were and continue to be.
"Even though DDT was banned in most countries in the 1970s (though it is still in use in some countries today), the effects of its application can persist across decades. This work also helps us to understand the ripple-effects caused by disruptions to even a single part of the food chain," said Reudink.
____________________________
ATTRACTING ATTENTION
The study is attracting a lot of media attention, and here are some links…
CBC Television's, The National
CBC News Technology & Science