Posted on: October 10, 2012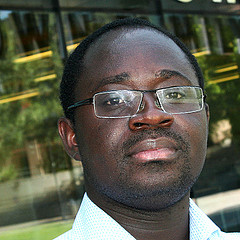 Dr. Richard Frimpong Oppong, a leading expert on private international law, and one of the founding faculty at the Thompson Rivers University (TRU) Faculty of Law, has been awarded a Social Sciences and Humanities Research Council of Canada (SSHRC) grant of $42,750 to promote individual rights to international justice.
The SSHRC grant will support Oppong's research into what happens when, after years of expensive, emotionally challenging, and prolonged litigation before an international court, an individual wins a judgment in their favour, but must then face the often disempowering process to have that judgment enforced.
PROJECT DETAILS
The two-year project, titled "Access to International Justice at the Post-adjudication Phase of International Dispute Settlement: the Role of National Courts", will investigate the extent to which the lack of effective enforcement mechanisms for international judgments undermines individual rights to international justice, and examine the extent to which national courts may be important sites to overcome this challenge.
Oppong's grant will enable him to hire two research assistants from the first cohort of students in TRU's Faculty of Law, entering their second year this fall. He will visit international courts such as the Court of Justice of the Economic Community of West African States in Nigeria, the African Court of Human and Peoples Rights in Tanzania, the Inter-American Court of Human Rights in Costa Rica, and the European Court of Human Rights in France to conduct research interviews, and attend national and international conferences.
"This research grant is a very significant milestone in the evolution of the TRU Faculty of Law," said Oppong. "A principal objective of the faculty is to be a research intensive institution. Leading Canadian law schools are noted for their cutting edge and externally funded research. A research grant from the SSHRC—awarded after a highly competitive and selective process—is testament to the significance of the research being done at the Faculty of Law."
MORE INFORMATION
Dr. Richard Frimpong Oppong
Assistant Professor, Faculty of Law
Thompson Rivers University
(p) 250-852-7696
(e) roppong@tru.ca