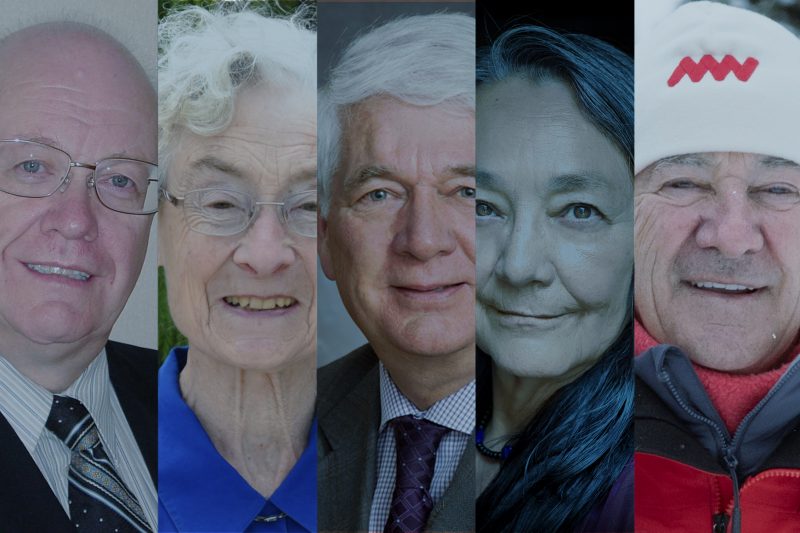 KAMLOOPS – Thompson Rivers University is pleased to announce this year's honorary doctorate recipients, each of whom will receive their degrees during convocation ceremonies occurring June 5–7. The honorary degree is the highest form of recognition offered by TRU and awarded for demonstrated excellence in the fields of public affairs, the sciences, arts, humanities, business, law and philanthropy.
"The conferring of these degrees recognizes the tremendous contributions these individuals make to society, but it's also an opportunity to inspire our graduating students as they leave this university and go on to contribute to our world," said Brett Fairbairn, TRU President and Vice-Chancellor, noting each honorary degree recipient will provide remarks at the June convocation ceremonies.
This year's recipients and the respective ceremonies they will attend are:
Charles Mossop, Doctor of Letters
Addressing the School of Business and Economics convocation, Wednesday, June 5, 2:30 p.m.
Charles Mossop's passion for the value of internationalization helped lay the foundations of BC's international education system and make TRU a leading destination for students from around the world. In 1983, Mossop became coordinator of what was a two-person International Education department at then-Cariboo College. Over time, he increased faculty involvement in field schools abroad as well as international student interest in TRU, developed specialized and culturally sensitive support for international students—a model adopted by other institutions across Canada—and helped establish a provincial post-secondary network on international education. In 2014, the BC Council for International Education awarded him the International Education Lifetime Achievement Award.
Dr. Pauline van den Driessche, Doctor of Letters
Faculty of Science convocation, Thursday, June 6, 10 a.m.
Dr. Pauline van den Driessche, Professor Emeritus in the Department of Mathematics and Statistics at the University of Victoria, is an internationally renowned mathematician whose research continues to play a significant role in global health. This includes her work in mathematical epidemiology, the application of mathematical modelling in the study and management of infectious diseases. Dr. van den Driessche is recognized for her devotion to teaching and mentoring countless young academics throughout her career at UVic. She is the author of approximately 240 peer-reviewed publications, and named a Thompson Reuters Highly Cited Researcher in 2014, as one of 99 of the world's most influential mathematicians.
Karl deBruijn, Doctor of Letters
Addressing joint-convocation ceremony for the School of Trades and Technology, and the School of Nursing, Thursday, June 6, 2:30 p.m.
Karl deBruijn is an educator, community leader and philanthropist who has devoted his career to the development of education in the Kamloops area. His contribution to community and service includes nearly four decades with School District 73, first as a teacher, then as a principal, followed by more senior roles including CEO and superintendent of schools before retirement in 2016. His community leadership has included chair of the TRU Board of Governors and the 2017 Special Olympics BC Summer Games, and as past president of the Kamloops YMCA-YWCA board.
Tantoo Cardinal, Doctor of Letters
Faculty of Arts convocation, Friday, June 7, 10 a.m.
Tantoo Caroline Rose Cardinal is Métis and a celebrated actress of stage, screen and television. Throughout her career, her strong portrayals and determined pursuit of truth have helped break barriers in the onscreen representation of Indigenous people. She has appeared in blockbusters such as Legends of the Fall, Dances with Wolves and Black Robe, and in recurring roles in television series such as Blackstone, Arctic Air and North of 60. Her support for the growth and development of Indigenous performing arts has led to national recognition, including the Order of Canada in 2009 and a Canadian Screen Award for lifetime achievement.
Mike Wiegele, Doctor of Laws
Addressing the joint convocation of the Faculty of Adventure, Culinary Arts and Tourism, and the Faculty of Law, Friday, June 7, 2:30 p.m.
Mike Wiegele is a ski coach, guide and entrepreneur who has made significant contributions to the advancement of the backcountry skiing industry in Canada. In 1989, he established the Canadian Ski Guide Association, which became the industry standard for training ski guides. A year later, he approached the University of Calgary to conduct research into avalanche safety, which led to the development of many of the protocols in place in the industry today. Wiegele has been a strong supporter of TRU Adventure Studies programs, hosting courses at his Blue River heli-skiing operation. Honours include induction into the Canadian Ski Hall of Fame, the Banff Sports Hall of Fame and the Canadian Rockies Ski Racing Hall of Fame.
Contact:
Darshan Lindsay
Marketing & Communications
Thompson Rivers University
dlindsay@tru.ca | 250-828-5362