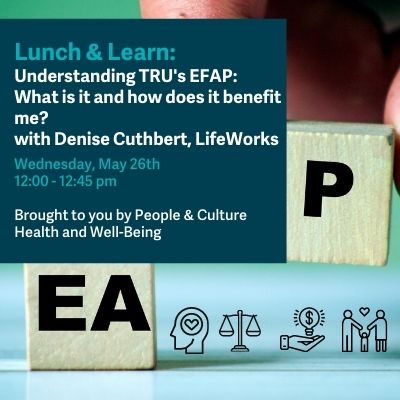 Understanding TRU's EFAP: What is it and how does it benefit me?
Did you know that TRU offers its employees a Employee Family Assistance Program (EAP or EFAP) through a company called LifeWorks?
LifeWorks provides TRU employees free, short-term counselling sessions, consultation services, an online wellness platform, a fitness app and more!
Unfortunately, according to the COVID-19 Employee Feedback Survey, many do not fully understand what the EFAP is, how to access it or how it can benefit them. So, TRU People and Culture—Health and Well-being has invited Denise Cuthbert from LifeWorks to share the many features the program offers and answer any of your questions or concerns.
Everyone needs support from time to time, so join in and learn what's available to you when you need it. Your well-being matters.
Please note: This Lunch and Learn will be held via MS Teams. Please register so that Campus Wellness Advisor Joy Demsey can email you a calendar invite link. If you do not receive an email, please email jdemsey@tru.ca. Please note that TRU-OL staff/faculty will not be paid for attending this presentation.