The annual TRU Job Fair is the largest job fair at a post-secon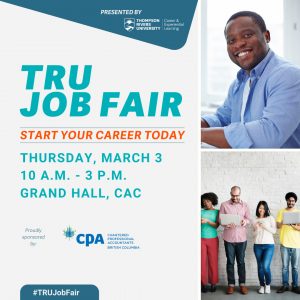 dary institution in the BC Interior, and one of the largest university job fairs in the province!
For 2022 we plan to have a hybrid fair with both online and in-person booths (following all current COVID protocols).
Companies and organizations recruit students and new graduates from every program area — Arts, Business, Education, Fine Arts, Health, Journalism, Science, Social Work, Tourism, and Trades. Students and new graduates are recruited for volunteer opportunities, part-time work, summer employment and full-time roles.