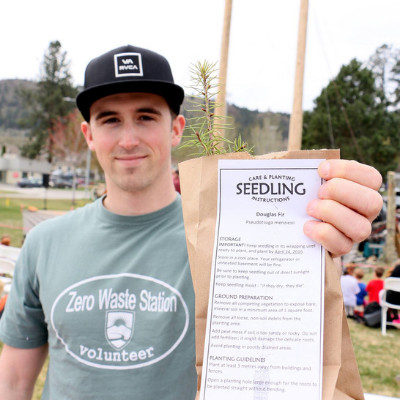 Earth Day 2022 at TRU (Kamloops Campus) will be rooted in human rights and tree planting. The event will focus on honouring indigenous individuals in Central and South America who are trying to protect their native lands from industrial development.
The event starts with a ceremony at 12:30 p.m. on April 22, between the International Building and the Arts and Education Building.
During the ceremony, TRU student Anneka Spice will speak about the Amnesty International campaign to bring awareness to inspiring Latin American land protectors who are under attack for trying to safeguard core elements of their environment. One Douglas Fir tree will be planted in their honour, and several hundred Lodgepole Pine seedlings will be available for free while supplies last.
"The Earth Day event at TRU will focus on courageous environment protectors in Colombia and other parts of Latin America, the world's most dangerous region, to protect forests, land, air, and water, especially for those who already experience oppression related to factors such as their Indigeneity, race, or gender," says Spice. "Attendees will have the opportunity to learn more, and to take action by signing petitions for the protection of these brave people."
Please email Claire Irvine, the Sustainability Programs and Support Coordinator in the TRU Sustainability Office, for more information.